Publication
Exploring Early Medieval English Eloquence: A Digital Humanities Approach with A Thesaurus of Old English and Evoke
This special issue of the peer-reviewed journal Amsterdamer Beiträge zur älteren Germanistik (Brill, 2021) brings together articles that explore new digital ways of analyzing and annotating Old English vocabulary.
Author

Eds. Sander Stolk and Thijs Porck

Date

25 January 2022
Ever since its publication in 1995, A Thesaurus of Old English has been the point of departure for many scholars working on aspects of the language and culture of early medieval England. Whether doing a semantic field study or a literary-critical analysis, scholars have profited from the ability to look up which Old English words were available to denote particular concepts. This special issue is devoted to this important lexicographic resource and how scholars have been able to further explore Old English lexis through the new web-application Evoke, developed by Sander Stolk as part of his PhD project at Leiden University Centre for the Arts in Society (LUCAS). Many of the contributions are available in Open Access.
Research tools and case studies
Jane Roberts, one of the original editors of A Thesaurus of Old English, opens the volume and describes the genesis of this important research tool. Next, Sander Stolk explains how his web-application Evoke allows researchers to link additional information to the Linguistic Linked Data version of A Thesaurus of Old English, using Semantic Web technology. Subsequent contributions to the volume demonstrate the potential of Evoke to impact the study of Old English and, more broadly, the ways in which digital approaches, like Evoke, may affect the future of lexicography and onomasiology.
Thijs Porck demonstrates how Evoke can be used to create 'onomasiological profiles' of individual Old English texts and how a comparative analysis of Beowulf, Andreas and the Old English Martyrology brings to light new and distinctive patterns of vocabulary use in these texts. Amos van Baalen uses Evoke in a similar manner in order to study the vocabulary that characterizes the oeuvre of an individual author, Ælfric of Eynsham. The contribution by Fahad Khan et al. explores how Evoke may be used to visualize, navigate and explore conceptual mappings within the Old English emotion terms. Two further contributions report on efforts to use Evoke to link Old English vocabulary to words in related languages: Rita van de Poel and Sander Stolk show the overlap and differences between Old English and Old Frisian words in the semantic field of KINSHIP in Old English and Old Frisian, while Katrien Depuydt and Jesse de Does reflect on their efforts to link information from the Dictionary of Old Dutch to the Thesaurus of Old English dataset available in Evoke. The special issue is concluded by Kees Dekker, who shares his experiences of using A Thesaurus of Old English and Evoke in the Old English classroom.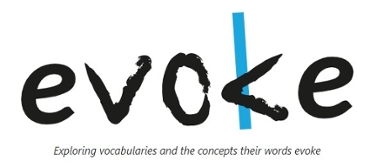 New digital thesauri now available
An important offshoot of the project 'Exploring Early Medieval English Eloquence' is the public release of researcher-made digital thesauri created through annotations of the Linguistic Linked Data version of A Thesaurus of Old English through Evoke. Users can now browse and analyze digital thesauri of the individual Old English texts Andreas, Beowulf and the Old English Martyrology, as well as thesauri devoted to Ælfrician vocabulary and kinship terms in Old English and Old Frisian. These new thesauri are available on the Evoke website and a beginner's guide to using the Beowulf Thesaurus is available here. Taken together, the contributions to the special issue and these new thesauri show how the development of digital research tools can be a powerful impetus for future research and teaching.
Acknowledgments
The publication of Exploring Early Medieval English Eloquence: A Digital Humanities Approach with A Thesaurus of Old English and Evoke and the digital thesauri was made possible by the collaborative spirit of the scholars involved and the support of various institutions. The ideas for the articles were developed and presented at three workshops organized between 2019 and 2021, where collegial feedback and a cooperative atmosphere helped shape everyone's efforts. The concluding workshop was part of the International Conference on English Historical Linguistics 21 (ICEHL-21). The project 'Exploring Medieval English Eloquence' was supported by the LUCAS Extra Resources Open Call-II Grant 2020, awarded by the Leiden University Centre for the Arts in Society, and the LUCDH Small Grant 2018, awarded by the Leiden University Centre for Digital Humanities.