Graduation ceremony of the LL.M. Advanced Studies in International Children's Rights 2022-2023
On Wednesday, 30 August 2023, the graduation ceremony took place in Leiden University's Academy Building. The ceremony was a momentous occasion, attended by distinguished guests, faculty members, and the proud families and friends of the graduates. The event celebrated the hard work, dedication, and passion of the 2022-2023 cohort, who have spent the past year immersing themselves in the intricate world of children's rights.
During the graduation ceremony, 21 students received their well-deserved LL.M. diploma. The students were personally addressed by their thesis supervisor, praising their hard work and wishing them the best of luck in their future careers. Family and friends were present and some followed the ceremony via the livestream. The sponsors of the programme associated with the Leiden University Fund were there to witness the graduation. From UNICEF Nederland, Mr Johan Kruip and Ms Genevieve Wehry were present.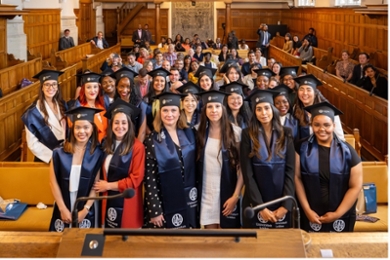 As the ceremony concluded with the tossing of graduation caps, it marked the beginning of a new chapter for the 2022-2023 graduates. Armed with knowledge, passion, and a commitment to making the world a better place for children, they are poised to become the next generation of leaders in the field of international children's rights.
The graduates were then invited to put their signatures on the walls of the so-called 'Sweat Room' (Zweetkamertje in Dutch) in the Academy Building.
After the graduation ceremony, a group picture was taken in the courtyard of the Academy building.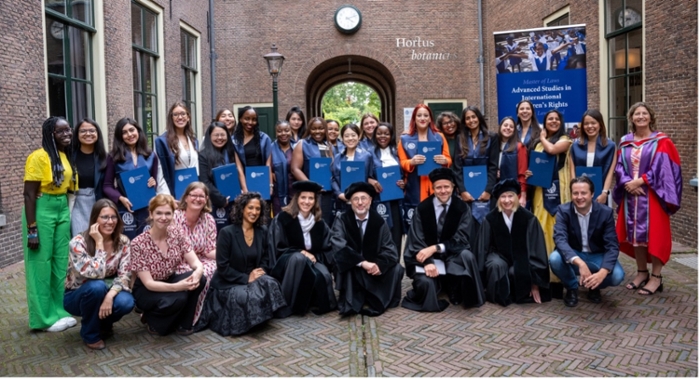 The graduation ceremony was also a moment to celebrate the achievements of the Children's Rights Moot Court Team 2023. The team won the award for the Best Oral Argument for the Respondent in the Competition which was held in June this year.