Await AND anticipate. How the municipality of Amsterdam manages developments in the digital public domain.
The issue of how to deal with a development such as digitalisation in the public domain raises difficult questions for the municipality: who is responsible and when do you intervene?
On TikTok, restaurants in Amsterdam are going viral, attracting visitors from all over the world and clogging up the already narrow streets. Platforms for shared electric scooters and on-demand grocery delivery are incredibly popular among today's city dwellers, but they also negatively affect the quality of life in neighbourhoods.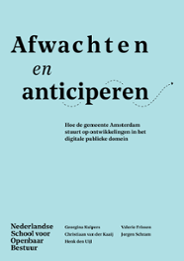 Georgina Kuipers, Chirstiaan van der Kraaij, Henk den Uijl, Jorgen Schram and Valerie Frissen (Professor by special appointment Digital Technologies and Social Change in eLaw) reflect in their essay on how responsibility for managing the public domain in the city should take shape in practice. Using four current cases in Amsterdam (share and platform economy, shared mobility, on-demand grocery delivery and dark stores, and virtual care platforms), the authors show that a paradox is present in the actions of the town authorities: awaiting and anticipating often go hand in hand. They conclude that this paradox does not stand in the way of good policy, but rather that a considered, balanced mix of anticipating and awaiting can be a good starting point for policy.
The essay was commissioned by the municipality of Amsterdam and can be read in Dutch on the website of the Netherlands School of Public Administration (NSOB).