Ewine van Dishoeck in children's book: 'Follow your heart and make sure you become very good at something'
Professor of Molecular Astrophysics Ewine van Dishoeck is portrayed as a heroine in a pictorial children's book. 'It starts with a dream' tells the stories of twenty exceptional Dutch women who have had a positive impact on society. The book aims to give young girls role models and encourage them to follow their dreams.
With the colourful children's book in her hands and a big smile on her face, Van Dishoeck shows of her page in the book. She is one of the twenty Dutch women in the book who are role models for young girls. Others are women such as writer Annie M.G. Schmidt, politician Khadija Arib, fashion designer Iris van Herpen as well as make-up artist and beauty vlogger Nikkie de Jager.
Together with virologist Marion Koopman, Van Dishoeck represents the scientists in the book. Van Dishoeck considers it a great honour to be portrayed as a Heroine. 'I am very happy that the book also includes scientists as inspiration for young girls: after all, the stars shine for everyone!'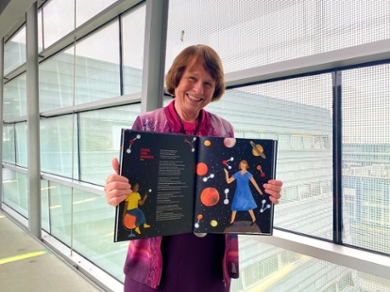 Having fun in your work
According to the authors of the book, Van Dishoeck shows that woman can indeed build scientific careers as well. 'We chose your story because of your important scientific discoveries, the worldwide recognition of your work and your commitment to encourage women and girls in science,' says author Babs Gons. 'Your story shows that as a woman, you can perform at the highest level in science and have fun doing it!'
In the book, van Dishoeck is colourfully drawn between the planets, molecules and stars. The short story tells how she was already very curious as a child and how this continued into her younger years. At the end, Van Dishoeck has some good advice for young readers. 'Follow your heart and make sure you become very good at something. Don't give up too quickly, because even if you are very talented, you will need a lot of persistence as well.'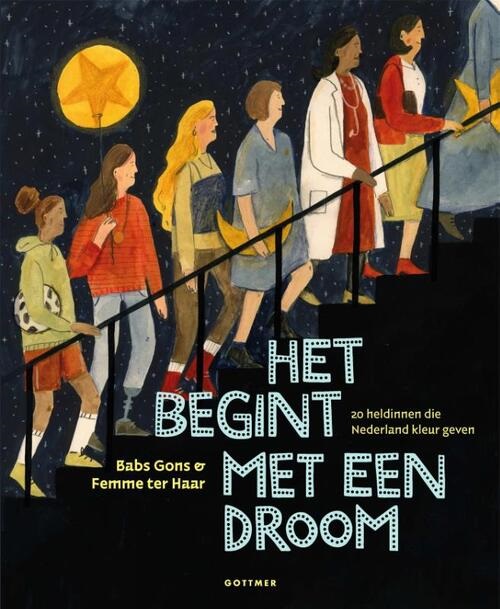 The book is part of the worldwide Heroines! Movement that wants to give girls a role model they can recognise themselves in. The book 'It starts with a dream' is the first publication. They hope to make a children's book in every country of the world with the stories of local heroines. The book made by Babs Gons and Femme ter Haar can be found in Dutch bookstores for € 16.99