5 universities joining forces with the Netherlands School of Anthropology (NESA)
Wednesday 23 February 2022 the NESA Netherlands School of Anthropology) has been officially launched with the first Masterclass by Prof. Marja Spierenburg (Leiden University) and Dr. Anke Tonnaer (Radboud University). The NESA is a graduate programme for PhD candidates of the five Dutch universities who work in the field of Cultural Anthropology and Development Sociology.
Joining forces and strengthen expertise
A recent evaluation of the research programmes suggested strengthening national cooperation and combining expertise, especially to improve and upgrade the training of PhD research scholars. The NESA is the result of a collaboration between de anthropology departments of the Vrije Universiteit, Universiteit van Amsterdam, Universiteit Utrecht, Radboud Universiteit and Universiteit Leiden.
Opening speech by dean Paul Wolters
To kickoff the day the dean of the Faculty of Social and Behavioural Science Paul Wouters held an enthusiastic speech: "Usually we evaluate too much. But sometimes something good comes out of an evaluation. The NESA is the result of the latest research evaluation of anthropology. The review committee asked the anthropologist why don't you work together in the form of a graduate school?"
Watch Paul Wouters' opening speech about his own experience with a graduate school, the need for anthropologists and the start of the NESA.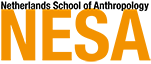 NESA launched in January 2022 with a first one year programme consisting of a series of master classes and an intensive methodology course. This programme will be repeated in 2023.
An extension of the core programme is envisioned after these two pilot year.