Law graduate Jiska Ogier speaks from experience: 'The Netherlands should be much more accessible for people with disabilities'
Jiska Ogier studied notarial law, which wasn't always easy because she went to lectures in a wheelchair. As a student she pushed to make society accessible. And with her law degree and lived experience she has now made this her work. 'You can achieve a lot with creative solutions.'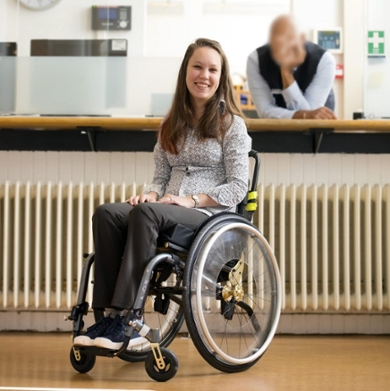 First and foremost: why did you decide to study law in Leiden?
'What got me interested in penal law was the case against Robert M., the manager of a crèche in Amsterdam who abused countless children. I wanted to find out how effective punishment is and to what extent you can prevent recidivism. I chose Leiden because the programme and the small-scale nature of the city appealed to me. I don't have much energy and am less mobile, so it's good to live in a compact student city.'
Why aren't you that mobile?
'I was born with cerebral palsy, which in my case is brain damage in the motor area. This means I can't direct the muscles in my lower body very well. My back is curved and that causes chronic pain. Due to the condition my energy is limited, so I use a wheelchair outside and increasingly inside too.'
'I felt a bit guilty making a noisy entrance to the silent library.'
What have been the benefits of studying Notarial Law?
'It's a specialisation that's of real practical use too. I know the legal side of many important things in life – from entrepreneurial law to inheritance law. Through my programme I also made a close group of friends and we discovered student life together – although this was mainly in the daytime because with my limited energy, I'm not a party animal. A group of fellow students and I often studied at my house because with my wheelchair I needed an independent apartment. Great that it also had a social function.'
As a law student you had lectures in the Kamerlingh Onnes building. How was that?
'It's a beautiful old building that has been modernised, but for me there were challenges, like entering the building via the barrier-free, but fairly steep ramp. Each floor has an accessible toilet, which is good if the break is long enough to give you time to use it. You can get to the library in a lift that makes a bit of a racket. I felt a bit guilty making a noisy entrance at the silent library. Luckily everyone in the building, such as the study advisers and staff from the reception, were open to ideas. They helped me where possible and I was given my own parking space for my tricycle. Expensive adaptations aren't always necessary. You can achieve a lot with creative solutions. Exams can be scheduled close to accessible toilets, for instance. And something like the buffet counter in the canteen doesn't have to be lowered straight away if you have signs showing what's in the high pans and dishes.'
How else did you try to make the University more accessible?
'I became a student assistant at the Student and Educational Affairs department and made lots of recommendations there. Colleagues and I organised sessions on what students with a disability need to be able to study properly. Everyone is different but many adaptations, for instance also providing lectures online, serve a very big group. And I'm still on the editorial board of the journal "Handicap en Recht". That's the perfect combination of my personal experience and law degree.'
'In 2015 Pauline Gransier and I started the Wij Staan Op! foundation, a movement for young adults with a disability who are lobbying for an inclusive and accessible society. Much government policy focuses on older people with a disability, whereas Wij Staan Op! represents the group of young adults for whom there is little or no provision for many things like housing. We tend to think that the Netherlands is a rich country and that everything is well organised, but in terms of accessibility the Netherlands is lagging way behind. Many buildings don't have things like a wheelchair ramp or an accessible toilet, and numerous other adaptations are missing.'
You graduated this spring. What are you doing now you're self-employed?
'As a professional with lived experience, I give advice and talks on how to make the Netherlands more accessible and inclusive. There's a lot of demand for people with the combination of a law degree and lived experience because since the ratification of the UN Convention on the Rights of Persons with Disabilities in 2016, it's been mandatory for government organisations to make adaptations. I've given workshops and talks at the Ministry of Infrastructure and Water Management and various universities of applied sciences. I also advise municipalities on this topic. Many organisations appreciate being able to talk to someone who not only is familiar with the practical aspects but can translate this to the law. Just recently I was approached by a professor I still know from my degree. He wanted to find out more about the subject. Nice for a change to be able to teach one of my old lecturers something.'

Text: Linda van Putten
Photo above article: In the town hall in Alphen (Sjors Massar)