Leiden Leadership Lunch – Do male or female leaders score better with employees?
How does gender of public leaders relate to employees' satisfaction with the leadership of their direct supervisor? In the online Leiden Leadership Lunch on Friday September 24, Dr. Max van Lent (Assistant Professor of Economics) presented the results of his recent research on the differences between male and female public managers from the employees' perspective.
Leadership and economics
The research of Dr. Van Lent indicates the importance of leadership for the economy. Public managers have a crucial role in contributing to employee satisfaction, motivation and productivity.
It may be noted that in recent decades the composition of public managers has changed. The number of female public managers has considerably increased. This trend gives rise to further inquiry into the differences between the perceptions of employees with either a male or a female supervisor. Are male and female public managers perceived differently?
The results of recent survey data on public managers in the Dutch public sector show that female leaders score better with employees than male ones. This applies to both the perceptions of male and female employees.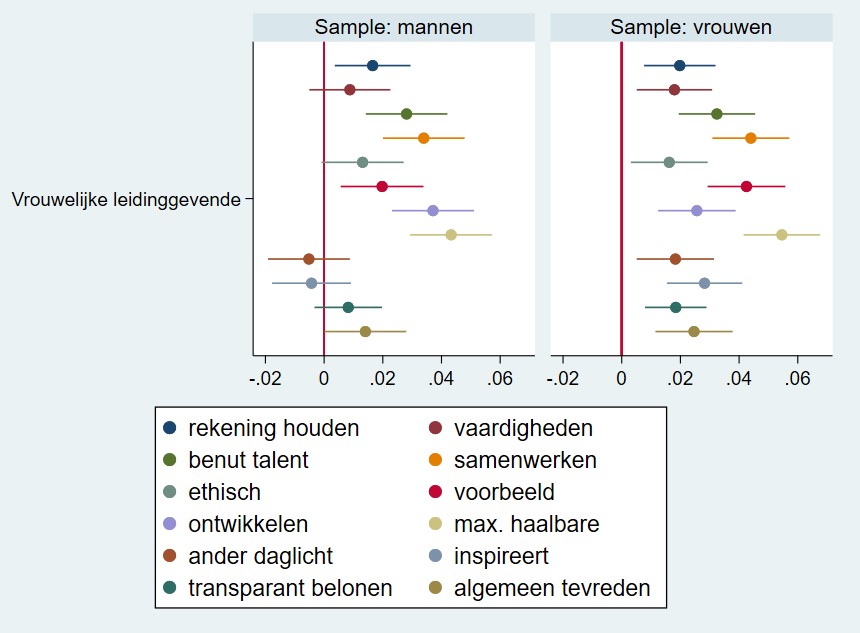 Public Administration perspective
After the presentation, Dr. Tanachia Ashikali (Assistant Professor of Public Management) joined the conversation to reflect on the findings from a public administration perspective. Dr. Ashikali pointed out some of the implications of the research results for leadership development. The research shows that employees value relational leadership skills more than task-oriented leadership skills. This can have consequences for leadership development and selection in organizations.
What's next?
This was the first meeting in a new series of Leiden Leadership Lunches on the topic 'Leadership across disciplinary boundaries'. In this new series, the Leiden Leadership Center invites colleagues from other disciplines to discuss leadership.
Do you want to stay informed about the upcoming Leiden Leadership Lunches in this series? Keep an eye on our website or follow us on LinkedIn and Twitter.