Astronomer Joe Callingham testifies against killer stars in new show on Discovery Channel
On Friday evening 17 September, Leiden astronomer Joe Callingham can be seen in a new series on Discovery channel. Killers of the Cosmos is about different deadly dangers lurking in the depths of space. Asteroids, cosmic debris, electromagnetic weapons… The show takes a film-noir approach to these threats, mixing scripted, animated drama with top experts gathering evidence against the potential perpetrators.
Panic over nothing?
Discovery does not want to 'create panic', but nevertheless writes that unprecedented forces far beyond our scope threaten our existence. How serious are these threats exactly? The experts are here to find out.
Killers Of The Cosmos shows the beauty and power of our universe, but also its dangerous unpredictability. Host of the show is Aiden Gillen, known for his role as Littlefinger in Game of Thrones.
And those odds can be quite real: 'For example, the chance that the impact of a asteroid will have catastrophic consequences is not far-fetched,' Discovery.co.uk writes. Just ask the dinosaurs who were wiped out by such an impact 66 million years ago. Or look at recent impacts in Russia in 2015 or in the Bering Sea in 2018. The latter had an impact ten times heavier than the atomic bomb on Hiroshima. What if it had landed not in the water, but on a city?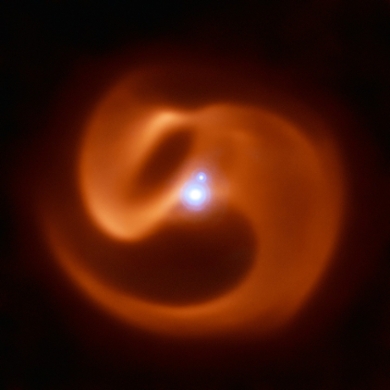 Killer stars as possible offenders?
The episode on Friday 17 September revolves around killer stars. 'These are the most massive stars in our universe,' says Callingham. They're about to go supernova, or in other words, to explode. They can potentially produce a gamma-ray burst. This radiation is very dangerous, as it contains lots of energy and is also radioactive. Dying stars often occur in pairs. Callingham discovered an extreme version of such an object and named it Apep, after the Egyptian god of chaos. Callingham: 'it comprises at least three massive hot stars enshrouded in spectacular spiralling plumes of dust.' At the radio telescope in Westerbork, he talks about this phenomenon.
Watch the episode
Killers of the Cosmos can be seen on Discovery on Friday evenings at 20:30. The episode with Joe Callingham appears on Friday 17 September.
Header image: Joe Callingham at the radio telescope in Westerbork