Tackling inequalities in the 21st century
An inclusive holiday calendar for the municipality Leiden or a new website for the Fenestra Disability Centre. It is a small selection of the solutions that honours students developed to make our current society more equal. For months they worked on these ideas and proudly presented their findings last week.
There exists inequality in our world, even in the 21st century. How do we tackle this? It is the starting point of the Bachelor Honours Class 'Inequalities in the 21st century', taught by Bram Hoonhout. The course focuses on inequalities regarding education, race, gender, ability and socioeconomic situation.
"You talk to real people to see if your ideas are actually true"
It is the first year students can sign up for the course and according to Hoonhout this is not a moment too soon. 'Besides climate change, inequality is the biggest challenge of this century. Students don't write an abstract final paper, but they themselves contribute to reducing inequality.'
Hoonhout matched the honours participants with a societal partner and corresponding challenge about inequality. At the final class meeting, the students presented their solutions to these societal partners. For instance, employees of the municipality of Leiden saw how honours students had designed an inclusive holiday calendar. This calendar not only included religious holidays, but also 'social awareness days' with a recommendation on how to celebrate these.
Fenestra
Lastly the honours participants who worked together with the Fenestra Disability Centre presented. Fenestra is the university department that supports students with disabilities. The challenge? Raise the awareness of Fenestra. Some students don't know it exists, or find it hard to reach it.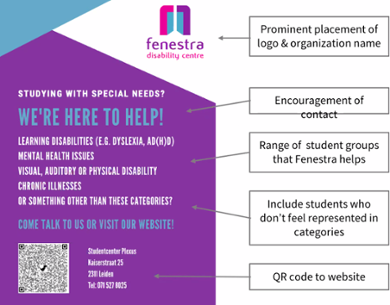 An assignment which the honours participants took up with great enthusiasm. They designed flyers, a new website and a social media strategy. Absolute inclusiveness was a high priority here. If the flyer contained a list a disabilities such as ADHD or autism, there was always a heading for those who didn't recognize themselves in these categories - so that they, too, would feel represented.
Coming to life
Maria Victoria and her honours group designed the prototype for the new Fenestra website. To do this according to the wishes of students, she conducted many interviews. 'Their stories taught me that you should never make assumptions. Now, if I would meet a student with a disability in class, I would ask what bothers them. Also if there is something which I should take into account when talking to them.'
By interviewing these students, the theory of the honours class really came to life. Maria Victoria: 'In this course you go beyond merely thinking about a project. Instead, you talk to real people to see if these ideas are actually true. This makes it a great honours class!'
Kudos
With the Fenestra group, the presentation night almost came to its end. However, there was still one important part: the round of compliments. Here the honours participants exchanged their 'kudos' and also Hoonhout expressed his admiration to each group. A first batch of students to be proud of– you could almost see him thinking it.
Text: Sarawitia Franken
Mail the editors