Four questions about the new track in Crisis and Security Management
Intelligence and National Security is the new specialisation in MSc Crisis and Security Management (CSM). It will start next September 2021. Do you want to know more about this track?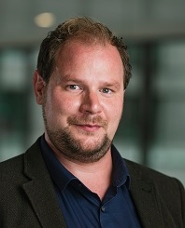 Four questions answered by assistant professor and coordinator of the track, Simon Willmetts.
Why this new track?
'We're offering this new track because we have the expertise on this subject of major societal concern, and we would like to offer students the opportunity to explore this secretive world of intelligence with us. We wanted to offer this track for a lots of reasons, both pratical and intellectual. At Leiden University's Institute of Security and Global Affairs (ISGA) we have a research group on Intelligence and Security that brings together a growing number of experts in the field of intelligence studies. Until the launch of this track our research group's most substantial programme of teaching has been the Minor in Intelligence Studies here at Leiden University. This Minor has been tremendously popular with students over the years. We've had ambitions for quite a number of years to offer a Master's programme of teaching as well.
There are also important intellectual reasons. Since the 9/11 terrorist attacks in 2001 there has been an explosion of interest in, and scholarship on, the work of intelligence agencies. This is hardly surprising. Intelligence agencies have been on the front line of the War on Terror, hunting terrorists and directing covert operations to disrupt threats. New technologies that have emerged in the last two decades have also raised profound societal questions about the work of intelligence agencies, and their place within democratic societies: how much of our data should intelligence agencies have access to? Do we have a reasonable expectation of privacy when we routinely give away our data to companies like Google and Facebook? What legal mechanisms, if any, should be in place to regulate these new and potentially intrusive powers that intelligence agencies have as a result of the digital revolution? These and many other questions have produced major societal debates, and scholarly interest in intelligence has grown with it.
As a result, we think that now is a very important time to study intelligence, and the issues related to it. There is a handful of successful Master's programmes in intelligence around the world, but most are in the UK or the US. We believe our programme will offer something quite unique, not only because of the specific set of expertise of our team, but also because we are located in The Hague, at the heart of Dutch government, and amidst a substantial community of international organisations, many of whom are interested in issues pertaining to intelligence. Incidentally, The Hague is also, from time to time, a bit of a hotbed of espionage, as the attempts by Russian intelligence officers to hack the OPCW a few years ago demonstrated.'
What do you learn if you participate in this specialisation?
'Our track consists of four specialised courses. If you decide to study our track you will take these courses on top of the core courses that you take on the Crisis and Security Management (CSM) programme. These courses are:
Global Perspectives in Espionage




Taught by Dr. Zakia Shiraz, this course aims to look beyond the Western and Anglocentric focus of intelligence studies. Students will learn about, and research, how intelligence agencies in other parts of the globe operate, what their major priorities are, and what security challenges they face.
Espionage and War in Cyberspace




This course will be co-taught by myself and Dr. James Shires from the cybersecurity research group. In this course we explore how cyberspace has fundamentally changed the work of intelligence, and what the implications of this are.
International Intelligence Cooperation and Covert Action




Taught by Dr. Tom Maguire, this course explores two related and highly significant issues in intelligence studies. The first is the way in which intelligence agencies from different countries cooperate with one another, and how Western intelligence agencies often provide "security assistance" to nations with developing security infrastructures. The second issue is covert action, which can be broadly defined as secret operations that seek not merely to better understand the world, but to change it. There are lots of types of covert action, ranging from paramilitary operations to propaganda. This course explores these two important themes, and their intersection.
Intelligence and Policymaking




Taught by Dr. Nikki Ikani, this course explores the vital issue of how intelligence agencies and policymakers interact with one another. Without effective communication to policymakers, intelligence is meaningless, because it relies upon the decisions taken by politicians in response to intelligence in order to be effective.
Embedded in each course are research skills that you will develop. You will learn how to write a literature review, how to critically interrogate scholarly arguments, how to conduct research and collect data, and how to analyse patterns in that data, and formulate arguments on the basis of this.
Along with these research skills, we also aim to provide practitioner perspectives, and teach professional skills, in all our courses, through guest lectures and interactive exercises designed to emulate the work of intelligence professionals
What kind of students could be interested in this track?
'Intelligence Studies mixes quite a lot of different disciplines together. There are historians who work with declassified or leaked historical documents to tell the history of intelligence, and issues related to it. There are international relations experts who write about the relationship between intelligence and foreign policy. How does intelligence dictate that policy, and vice versa? There are social scientists and political scientists who tend to tackle more contemporary issues related to intelligence from a variety of theoretical and methodological perspectives. Increasingly there are also cyber security experts, and scholars interested in the impact of new technologies who have a lot to say about intelligence. So if you've studied any of the above disciplines before, then you will find something familiar in the way certain scholars have approached the study of intelligence.
But there are all sorts of other ways that scholars have thought about intelligence, and this list of disciplines is far from exhaustive. We welcome anyone who has the necessary qualifications and an interest in the subject to join our programme. If you're interested in the programme, and want to know more about the eligibility requirements for getting onto the programme, your best bet is to first read our website, and then if you have further questions email our admissions team'
What are your expectations on the programme and what will be your role?
'I'm the overall co-ordinator of the new specialisation track, and I will be teaching on the course on Espionage and Cyberspace. I hope we have put together a course that students will find engaging. With the combined experience and expertise we have teaching on the programme, I'm confident that we will. I also really enjoy learning from the students. When talking to students from so many different backgrounds, with such a range of expertise and experiences, there's always new and fascinating things to learn about our shared interest in intelligence work. So, along with us teaching students a few interesting ideas and skills, I expect to learn quite a few things myself. I'm looking forward to it!'