Winterfair Graduation for students of Public Administration: 'Surprising and original'
It was a big surprise for the Bachelor's and Master's students of Public Administration, their graduation ceremony on 9 December. The inner garden of Wijnhaven had been transformed into a coronaproof winter fair with stalls, a sleigh and Christmas trees.
It looked like a military operation. Goal of the operation: 220 students in Administration with a maximum of 2 people with a time lock to safely run a course at the 'Winterfair Graduation' within one day. With special colour cards and a number of their diplomas, the graduates followed a route on the attractively decorated outdoor winter fair. At the first stand their diploma was handed over, with a personal message. Then on to the official photo-moment 'winterstyle'. Then they passed a stall for a present, wooden balls to hang in the tree and a drawing moment for master students. Posing in the sleigh for the beautiful pictures, along the Wall of Fame with all the names and through a luminous angel back inside.
Very personal
Short but powerful, but Manon Eijk (bachelor EBM) was happy that at this time anything was organised for her and her fellow students. 'It was very nice and well organised. As soon as you entered, you were given a goodiebag and explained when you could go to the market. The nice thing was that it was very personal this way. Everyone had a chat with you and took their time. It was also so nicely dressed, very atmospheric. For my mother and my brother who were with me it was also fine. Better than spending three hours in a room with a lot of people'.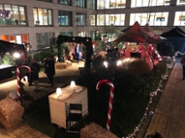 'Surprising and original', is the verdict of Niek de Goeje, father of the graduated Hanneke (Master Management public sector). 'We didn't know what to expect, but I found it very atmospheric with a personal touch through a nice letter with the diploma. However, the limit on the number of guests did cause disagreement at home. We had to choose, it was me or my wife, because Hanneke's boyfriend went along anyway. I understand that it had to be done, but fun is different. Fortunately, after that time we all had a nice meal and a drink at home'.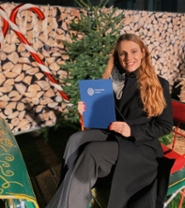 Festive and official
Hanneke de Goeje agrees with her father. 'Maybe an idea for a next time to hang up a webcam and stream it live for the stragglers'. Hanneke was also happy that something was organised after all. 'For what was possible within the corona measures it was well organised. It looked very nice and I certainly felt successful. In this way getting your diploma became a festive and official moment after all'.
On Tuesday 15 December, the Winterfair Graduation would also be held for nearly 100 Master Crisis and Security Management (CSM) students, but because of the lockdown, the event was cancelled. We will see if the graduation can take place at another time next year.