Teaching speaking skills in foreign languages with a practical, adaptive method
Tailoring teaching to students' learning needs in speaking skills in modern foreign languages is desirable, but difficult to achieve in regular classes in secondary schools. Esther de Vrind, PhD, manager and teacher educator at ICLON, developed a method to make this easier. Defence on 25 November.
Due to the volatile nature of speech, limited time and large classes with students with different learning needs, it is difficult to hear all students, provide feedback and give them the opportunity to improve their speaking performance. In addition, the teacher must simultaneously achieve other goals in the limited time, such as creating an optimal learning environment, motivating and activating students.
Adaptive and practical
The aim of this PhD research was to design, implement and evaluate an approach for self-regulated learning in speaking skills that is both adaptive for students and practical for teachers. On the basis of literature and a pilot study, an adaptive approach was developed and tested in classroom: the SpeakTeach method, with the design principles 'student's self-evaluation', 'adaptive feedback' and 'activities for improvement'.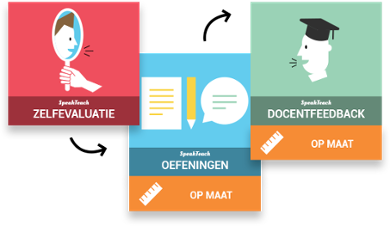 SpeakTeach app
The individual student is the point of departure for this approach to adaptive feedback. A self-evaluation procedure was used to get to grips with the students' learning process. First, the students do a speaking activity and record their speech with an app on their mobile phone or tablet. The students then listen to their recording and evaluate their own speaking and make a plan for improvement. The teacher takes in the self-evaluation forms and the recordings, and compares his/her own findings with those of the individual students, considers what each student needs and tailors feedback and support to the student in the form of exercises or instruction for the next lesson.
In subsequent lessons the students follow their plans to improve their speaking performance. The teacher is therefore practising differentiated teaching. At the end of the series of lessons the students do another similar speaking task, record it and analyse their progress. The self-evaluation procedure is therefore an iterative learning process.
Results
Teachers indicate that the SpeakTeach method gives them a better insight into the learning needs of their students, enabling them to tailor feedback and improvement activities. For these improvement activities they can use the teaching material and exercises from their regular lessons but now use them adaptively. Teachers report that students worked more seriously and actively on the assignments. Moreover, the SpeakTeach method is attractive because it does not take up too much time and fits in with their regular teaching practice.
Teacher evaluations show that students first need to get used to the method and that teachers need to develop their approach. This PhD research therefore examined also the professional development of teachers. For this purpose, also an adaptive approach was developed and tested to support teachers in expanding their adaptive teaching repertoire. In this approach to professional development, teachers evaluate their teaching practice, formulate goals and improvement activities and follow an adaptive learning route.