Bacteria that degrade plastic: Unilever Research Prize for master's student Jo-Anne Verschoor
Jo-Anne Verschoor wins the Unilever Research Prize 2020. The master's student in Biology developed a method to test whether bacteria are capable of degrading plastic. Verschoor: 'Using specific enzymes from these bacteria, we may be able to efficiently recycle plastic in the future.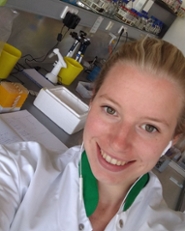 Recycling with bacteria
Worldwide, we produce more than 300 million tonnes of plastic each year. Most of that we throw away within a year. Not all this plastic can always be recycled, for example because many products consist of a mixture of different types of plastic. In addition, recycling does not improve the quality of the plastic, so producers always have to add new plastic to a new product. 'Tiny organisms such as bacteria may offer a solution to this major problem,' says Verschoor. 'Some bacteria, such as Streptomyces, produce enzymes that can break down plastic and other "foreign" substances. With the help of these enzymes, we may be able to improve the recycling process. In the future, we then no longer have to burn as much used plastic and produce as much new plastic!'
Initial screening
Verschoor developed a new method to test which bacteria can degrade plastic. With this method, she then examined the Streptomyces collection of her research group. Verschoor started with Impranil, a mixture of water and polyester: '27 per cent of the strains of bacteria tested were able to break down the polyester in this mixture. We also showed that you can influence the degradation process by adding different combinations of the carbon-rich nutrients mannitol and/or N-acetyl glucosamine.' After this, Verschoor had intended to repeat the tests with other types of plastics, but the lockdown unfortunately put the lab work to a standstill.
Persevering pioneer
Supervisor Han de Winde is full of praise for his student. 'Although the lockdown threw a spanner in the works on her lab work, Jo-Anne didn't give up. The excellence of her research can be seen in the persevering and pioneering way in which she set up this new line of research.' Verschoor replaced the cancelled lab work with an extensive literature study. De Winde: 'In this way, she brought structure to the large amount of literature on the subject and laid an excellent basis for further research.'
Large-scale production
Verschoor will continue her research as a PhD student. She has resumed her discontinued experiments and is now testing with other types of plastic. After that, she wants to optimise her screening method in order to easily screen multiple bacterial strains, but also fungi. Then Verschoor wants to identify exactly which enzymes are responsible for the plastic-degrading qualities of some microorganisms. Verschoor: 'At the end of my PhD I hope to be able to produce one or more of these enzymes on a large scale and to show that they can indeed break down plastics efficiently.'
Unilever Research Prize
This year the Unilever Foods Innovation Centre 'Hive' Hive' in Wageningen is organising a festive award ceremony for the Unilever Research Prizes for the 64th time. Thirteen Dutch universities have nominated their best student for this award. Just like last year, the Unilever Research Prizes 2020 are dominated byThe Global Goals. The graduation topics of the nominees touch upon one or more of these global goals, an important criterion for eligibility for the prize. The prize money amounts to € 2,500. The official award ceremony is on 26 November.