Omid Karami receives the Krijn Rietveld Memorial Innovation Award during festive ceremony
In a festive and intimate award ceremony, plant scientist Omid Karami received the first edition of the Krijn Rietveld Memorial Innovation Award out of the hands of Wim Klop, Director of the Biotechnology Center at DSM. Several speakers spoke about Krijn Rietveld and why Karami deserves the prize that was named after him. 'A worthy winner, whose discovery could contribute to less hunger in the world.'
Longer life for crops
Scattered around the Small Auditorium in the Academy Building in Leiden are approximately twenty seated people, separated by the necessary 1.5 meters distance. Here, Omid Karami receives the Krijn Rietveld Memorial Innovation Award, a new initiative by the Leiden University Fund and Royal DSM in honour of Krijn Rietveld (see text box below). The award recognises and rewards excellence in innovative research that contributes to a brighter society.
Karami discovered a so-called longevity gene in plants, which allows annual plants to continue to grow after flowering, instead of dying. These results may be promising in agriculture, where many of the crops are annuals, such as rice and wheat. It now becomes conceivable to harvest multiple times from the same crop, and thus increase the yield per plant. Karami and his colleagues published their findings in the renowned journal Nature Plants.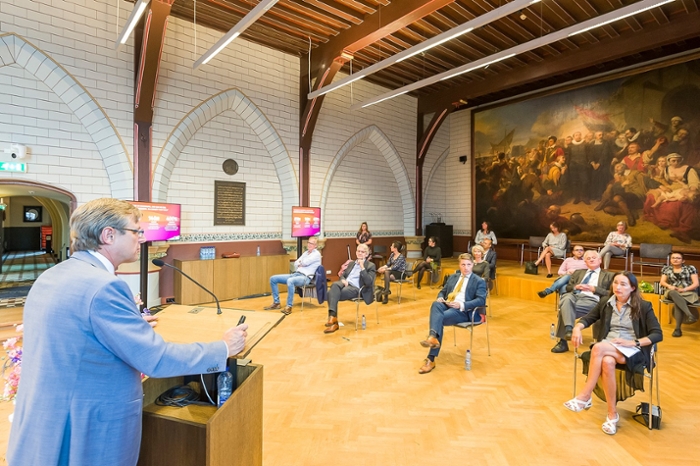 A great loss
'What an atmospheric room, great to be here together to honour Omid Karami,' says DSM Director Wim Klop as he opens the ceremony. After talking about DSM and its history, Klop explains who Krijn Rietveld was and why he was such an important man. 'Krijn obtained his PhD in biochemistry at Leiden University, after which I worked with him at DSM for many decades. He always inspired me and he had a very warm personality. For instance, he could calm a conference room during a heated debate with his sense of humour. It was a shock and a great loss when he passed away in 2018.'
DSM and the link with Leiden
It turns out that the fates of Krijn Rietveld, DSM, and the Faculty of Science are greatly intertwined. Faculty of Science Dean Michiel Kreutzer mentions that his first job after graduating was at DSM. He thanks his former employer for making this award possible. 'It is great to honour talented scientists, and we are happy to host the ceremony in an environment that fits the festive nature of the award.'
Gilles van Wezel, Scientific Director of the Institute of Biology Leiden (IBL), describes his bond with Rietveld: 'I've never met him personally, but there is a great connection. I still work on Streptomyces, a group of bacteria that Krijn Rietveld studied in his thesis. In fact, it even forms the basis of my professorship here in Leiden. Recently, I accidentally came across his thesis in a drawer at the IBL. I read the entire thesis with great interest, the science is really exciting.' Van Wezel even found out that Rietveld and he himself are both co-authors on the same scientific publication.
And there was another coincidental link between the DSM and Leiden. Karami's group leader Remko Offringa at the IBL talks about how he and his colleagues patented a gene-editing technique. 'We founded a spin-off company called Add2X and needed a commercial partner. Eventually, DSM decided to collaborate with us.' Later on, Karami joined Offringa's lab and eventually continued the work on this subject. 'And that resulted in Omid finding the longevity gene, a plant rejuvenator.'
'A worthy winner'
Ida Haisma is the Director of the Leiden Bio Science Park and a member of the jury. She names some of the criteria for the award, such as a topic in the fields of bioscience or data science, high-quality research, and findings that contribute to the Sustainable Development Goals. 'We praise the outstanding quality of his research, and the potential impact on society. Omid's work could help increase the yield of crops and thereby reduce hunger in the world. Therefore, Omid is a worthy winner of the first edition of this award.' Haisma points out that it would be great if this discovery resulted in a new startup, or if it could be applied by commercial partners. 'And as a jury, we think that this will be the case.'
More sustainable agriculture
'Thanks so much, everyone,' says Karami in his acceptance speech. 'It is such a great honour that our work got this award, it really means a lot to me.' He calls his work a long and difficult journey, with many challenges. 'I would also like to thank my wife, who supported me throughout the entire project.' Karami hopes his discovery contributes to more sustainable agriculture. 'It could help to convert annual crops into longer-living plants. We would like to bring this invention to the market.' He even thinks it might be possible to have multiple harvests from one crop plant in a year, something that is highly sought after in agriculture. 'With hard work, who knows what is possible in the future.'
Omid Karami receives the award from Wim Klop

Dean Michiel Kreutzer speeches

Remko Offringa talks about DSM and Leiden

Omid Karami explains his research

The crowd listens to Ida Haisma
About Krijn Rietveld
Krijn Rietveld (1956 – 2018) dedicated his life to bio-sciences. He obtained his PhD at Leiden University in 1985, for which he won the C.J. Kok Award. After his PhD, he started his life-long career at Royal DSM. Rietveld was known for his optimism and sense of humour and knew how to build bridges between business and the academic world. For him, science and innovation were all about looking at the world, studying the challenges we face and working together across disciplines, to deliver innovative solutions that contribute to our planet and the people living on it. His ideas form the basis of the Krijn Rietveld Memorial Innovation Award.
Pictures: Pim Rusch
Text: Bryce Benda