Arianna Pranger lecturer of the year 2019-2020
'One lecturer stood out in particular,' said Dirk van Vugt, Chair of the Leiden University Student Platform (LUS), at the opening of the academic year. 'Despite the hurdles of remote teaching, she managed to inspire her students with the aid of knowledge clips, challenges and topical lectures about coronavirus.' Arianna Pranger, senior lecturer in pharmacy, was named lecturer of the year.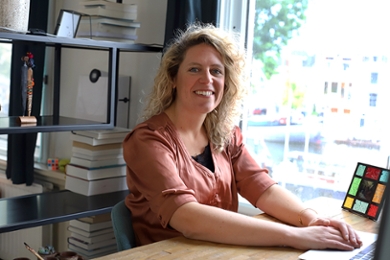 It wasn't easy for the students from the Leiden University Student Platform (LUS) to come up with a shortlist: an astonishing 200 lecturers were nominated by their students for the LUS Teaching Prize, renamed the Leiden Remote Teaching Prize for the occasion.
Resourceful lecturers
Referring to the exceptional situation, Dirk van Vugt, Chair of the Leiden University Student Platform (LUS), said, 'The circumstances forced lecturers to give shape to remote teaching. Each of the three nominees did this in their own, very inventive way.' The three nominees were lecturer in Portuguese Nuno Atalaia, archaeologist Aris Politopoulos and pharmacologist Arianna Pranger.
Activating teaching
'And the winner is… Arianna Pranger,' Vugt announced. Praising Pranger's activating teaching, he said, 'By making each learning objective suitable for remote teaching, Arianna Pranger took her lectures to the next level, despite the digital barrier. She uses many different methods to motivate her students: she gets them to make their own knowledge clips and holds challenges and competitions. And through her feedback loop, the students have the opportunity to help shape Pranger's remote teaching and offer any criticism. She managed to keep her students engaged, and her teaching improved week by week.'
Thanks to students
The pleasantly surprised Pranger received a 25,000-euro cheque to spend on teaching and becomes a member of the Leiden Teachers' Academy for educational innovation. In her acceptance speech, Pranger addressed her students, acknowledging that the pandemic had made life difficult for them too. It was only with their help that she had managed to make the best of a bad situation.
For the first time, the runners-up also received a prize: 2,500 euros each to spend on teaching innovation.