Strict but fair
Guest lecture immigration law by Secretary of State Broekers-Knol On 5 March 2020.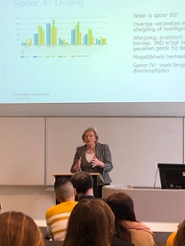 On 5 March 2020, Secretary of State for Justice and Security, Mrs Ankie Broekers-Knol, returned to Leiden Law School to teach a guest lecture in the framework of the Bachelor Elective Immigration Law. Students of the Honours Class "The Aftermath of the Refugee Crisis", taught as part of the Jean Monnet Chair on Mobility and Security in Europe (MOSE), also attended.
The Secretary of State spoke about current issues in the field of migration and asylum, such as the situation on the Greek islands and the threat by Turkey to no longer stop migrants wanting to reach the European Union, the delays in processing asylum requests and the ensuing penalty payments, public order problems surrounding the reception of asylum seekers and the return of unsuccessful asylum claimants.
Students were given an insight in the day to day business of the Secretary, who spoke of her work visits and meetings both in the Netherlands and at European level. In her concluding remarks she argued that in order to ensure public support for asylum, some painful measures were necessary.
It was a lively meeting, in which the Secretary spoke freely and frankly on current issues of migration and asylum law and policy. Moreover, she took ample time to answer questions from the students.