eLaw students organize lecture by the European Data Protection Supervisor
On Tuesday 11 February, the European Data Protection Supervisor, Mr. Wojciech Wiewiórowski, visited eLaw, - center for Law and Digital Technologies at Leiden Law School to give a lecture on facial recognition systems and data protection in Europe.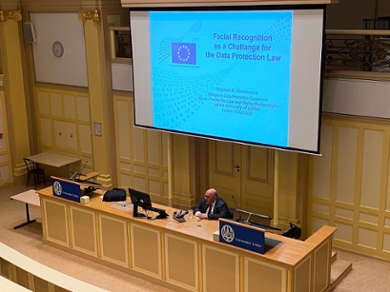 The European Data Protection Supervisor is the independent data protection authority of the European Union. Its primary mission is (1) to ensure European institutions and bodies respect the right to privacy and data protection when they process the personal information of individuals; and (2) to advise the institutions on all matters relating to the processing of personal data. Mr. Wojciech Wiewiórowski was appointed as EDPS on 5 December 2019 for a term of five years. Before his appointment, he served as Assistant European Data Protection Supervisor from 2014 to 2019 and as Inspector General for the Protection of Personal Data at the Polish Data Protection Authority, a position which he had held since 2010. He was also Vice-Chair of the Working Party Article 29 Group.
The evening lecture was organized at the initiative of the students of the Advanced LL.M. Law and Digital Technologies. In his lecture, Mr. Wiewiórowski highlighted the importance of the debate on the ethics of facial recognition technology, encouraging academics to research long-term effects of these systems on individual human beings, on society, as well as societal values of the EU such as democracy. After the lecture, Mr. Wiewiórowski answered questions from the audience, raising concerns on the direction facial recognition technology might take if it continues to be deployed more widely.