Three writers win the Peter van Straaten Psychology Prize
Three novelists have won the first Leiden University Peter van Straaten Psychology Prizes: Esther Gerritsen, Yvonne Keuls, and Marieke Lucas Rijneveld. This is a prize for Dutch writers whose novels shed light on psychological problems and disorders. The prizes will be awarded on January 16.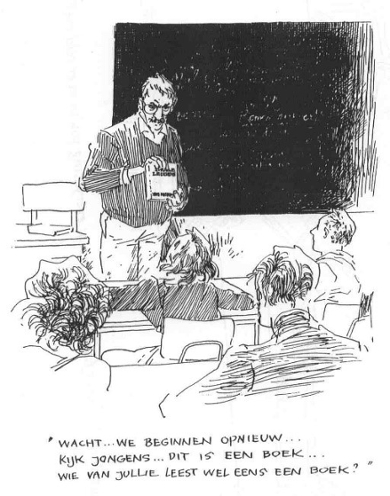 The Peter van Straaten Psychology Prize was the initiative of the Department of Clinical Psychology within the scope of Leiden University's 444th anniversary. The writers each win €1,500 and an original drawing by Dutch cartoonist and writer Peter van Straaten.
Student essays
What does a novel say about the causes, symptoms or treatment of mental illness? About 80 psychology students wrote an essay on this as part of the Clinical Psychology course in the bachelor's programme in Psychology. The students chose a novel and addressed the question of how a novel ties in with and enriches the course literature, by going into the topic in greater depth or looking from another perspective. The students wrote essays on over 40 different books.
Finalists
A jury judged both the essays and the books and chose the following winners::
• Het verrotte leven van Floortje Bloem (The Rotten Life of Flortje Bloem) (1982) by Yvonne Keuls
• Superduif (Superpigeon) (2010) by Esther Gerritsen
• De avond is ongemak (The Discomfort of the Evening) (2018) by Marieke Lucas Rijneveld
Symposium
The best students will present their findings in a mini-symposium on Thursday 16 January 2020. This will take place at 15:30 in the Kamerlingh Onnes Building in Leiden. The writers will respond to the students' presentations, and the student with the best presentation will win a €400 book token. The other finalists will receive a €200 book token. The student prize is a public prize: the public chooses the winner on the day. The mini-symposium can be attended free of charge. To register, send a message to a.l.oskam@fsw.leidenuniv.nl. Registration is not mandatory, but is appreciated.
Peter van Straaten
The prize is named after cartoonist and writer Peter van Straaten (1935–2016). He received an honorary doctorate from Leiden University in 2011. His honorary supervisor was Willem van der Does, who is now the initiator of the prize. He had the following to say about Van Straaten: 'His work reminds the modern, technologically spoiled scientist that observing behaviour with the naked – but trained – eye is the indispensable basis of psychology.'
Jury
The jury consisted of psychologist, writer, and journalist Ranne Hovius, psychologist Marc Molendijk, clinical psychologist Maartje Schoorl and Professor of Clinical Psychology Willem van der Does. The prize was made possible by Els van Straaten-Timmerman and the NVGzP (Dutch Association for Healthcare Psychology).
Photo of Peter van Straten: Roel Wijnants