'We're a spaceship with limited supplies'
From the discovery of exoplanets to the hunt for extraterrestrial life. At the Astronomy Gala on 17 December in the concert hall in Leiden, astronomers looked back, but above all ahead. With King Willem-Alexander as guest of honour.
The gala was to mark the 100th anniversary of the International Astronomical Union (IAU) and the 20th anniversary of the Netherlands Research School for Astronomy (NOVA). Ewine van Dishoeck, Professor of Molecular Astrophysics, has a key role in both organisations: she is scientific director of NOVA and president of the IAU, which represents around 13,500 astronomers from over 100 countries. She hosted the gala in a packed concert hall together with Jim Jansen, editor-in-chief of New Scientist.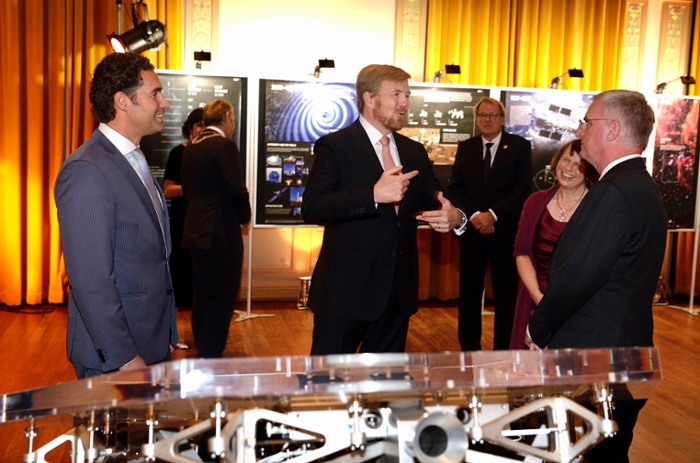 Extremely Large Telescope
Alongside highlights such as the first moon landing and the spectacular first photo of a black hole, there was much speculation about that one pressing question: when are we going to discover extraterrestrial life? 'We are the first generation to possess the technology that can answer that question,' said Van Dishoeck. The ELT, or Extremely Large Telescope, will be completed in about six years' time. This exceptionally powerful telescope the size of a football stadium is being built in the Atacama Desert in Chile. Another astronomer from Leiden, Tim de Zeeuw, was one of the architects of the ELT. He started work on this the largest telescope in the world in his years as director-general of the European Southern Observatory.
Tour for the King
King Willem-Alexander was impressed by the discoveries presented. He looked at displays of telescopes and instruments and spoke to a number of researchers. He was also given a tour of an exhibition about one century of astronomy and space research.
First photo of a black hole
Celebrated astronomers from home and abroad spoke, often with an injection of humour, about their research. Heino Falcke, for instance, who is Professor of Radio Astronomy in Nijmegen. He is one of the initiators of the project to take photos of black holes with telescopes in various parts of the world. His efforts and those of hundreds of his colleagues have been rewarded. The first photo ever of a black hole ('it looks like a doughnut') hit the world headlines this year. The hole is 500 trillion kilometres from Earth.
Baby photo of the universe
Presenter Jim Jansen asked what the next iconic moment would be. Not finding extraterrestrial life because that will take some time. Most of the astronomers agreed that the younger generation in the room would live to see this discovery but the older one probably wouldn't. A baby photo of the universe could be the next revelation, said astronomer Joeri van Leeuwen (University of Amsterdam). Because the new telescopes are making it increasingly easy to follow the evolution of the universe. Leiden astronomer Frans Snik spoke about how he and his team are developing innovative technology for the next generations of telescopes.
Earth looked like Mars
The mysteries of the universe are mostly unravelled by closely studying the Earth itself. For its first billion years Earth was like Mars, said astrobiologist Inge Loes ten Kate from Utrecht University. To gain a better idea of possible extraterrestrial life, she is researching how life on Earth developed. It is not just researchers but also 'normal' citizens on Earth who benefit from technological developments in astronomy, Leiden astronomer Pedro Russo emphasised. Innovations like wifi or advanced MRI images for detecting disease are thanks in part to astronomy, and it is easier to discover environmental pollution with the technology from this discipline. Said Russo, 'Astronomy can help protect our fragile planet.'
Spaceship
Taking better care of the Earth was also the message of Leiden astronomer Vincent Icke, who stepped into the shoes of one of our exoplanet neighbours as it looked pityingly at life on Earth. Then it was time for astronaut André Kuipers to give an evocative description of his time in space. He ended the gala with a warning, 'We're a spaceship with limited supplies.'

Photos: Bob Bronshoff/NOVA
Text: Linda van Putten
Mail the editors