Celestial worlds and comet hysteria in Van Dishoeck exhibition
A moon rock from the Apollo 17 mission, antique globes and the cosmos according to Wassily Kandinsky. Ewine van Dishoeck, Professor of Molecular Astrophysics, has put together an impressive exhibition at Rijksmuseum Boerhaave.
A minuscule piece of moon is just one of the objects on display at the exhibition Cosmos: Art & Knowledge at Rijksmuseum Boerhaave, which is on until 16 March 2020. Astronauts from the Apollo 17 mission brought a collection of moon rocks back to Earth with them in 1973, and one of these is one of the gems – literally – of the exhibition.
Depictions of the solar system
Astronomy and art go hand in hand, suggests art lover and guest curator Van Dishoeck in a short film at the start of the exhibition. 'Art sometimes predates science by centuries,' she says. A print from 1798 demonstrates this. This intriguing print, which was included in an English encyclopedia at the beginning of the 19th century, shows our solar system and suggests what other solar systems might look like.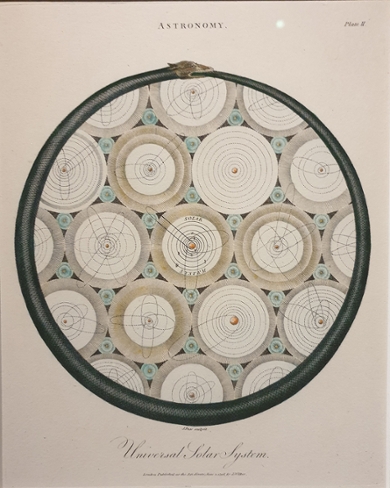 Art inspires
The print is special for two reasons, says Van Dishoeck: 'The existence of other solar system was only proven 25 years ago. What is striking is that the maker of the print suggests that other solar systems have a different structure than our own, and he was right. Art definitely inspires me in my research.'
Extraterrestrial life
Another stunning example is 'Stars,' a depiction of a galaxy by expressionist painter Wassily Kandinsky (1866-1944). He painted colourful celestial bodies that look as though they are springing from a black cloud. When he painted this in 1938, he couldn't have known how stars and planets are 'born.' Van Dishoeck is currently researching how new planets and stars emerge from dark gas and dust clouds. Her research is contributing to the hunt for extraterrestrial life. Van Dishoeck: 'We are the first generation of researchers to have access to technology that can answer the question of whether extraterrestrial life is possible.'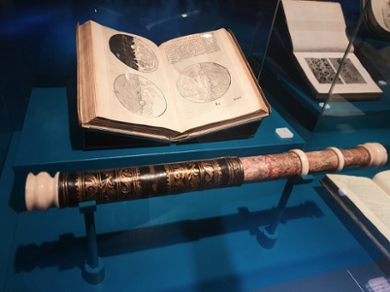 Comet hysteria
Seventeenth-century physicist Christiaan Huygens also speculated about possible extraterrestrial life. He did so in his book, on show at the exhibition, The Celestial Worlds Discover'd. Or, Conjectures Concerning the Inhabitants, Plants and Productions of the Worlds in the Planets. With his revolutionary telescope, Huygens made important discoveries – the moon of Saturn, for instance. We also get to see drawings of the moon by Italian astronomer Galileo Galilei. He saw mountains on the moon through his telescope, a revolutionary idea at the time, 1610. The exhibition also tells us about the 'comet hysteria' that took hold all over the place when Halley's Comet skimmed past the Earth in 1909.
Leiden Aratea
The exhibition also has various historical treasures including the Leiden Aratea, an extremely rare Carolingian manuscript from 816 with pictures of the seasons, planets and constellations. This medieval manuscript comes from the Leiden University Library collection.
Rabbit on the moon
Van Dishoeck shows how people from different cultures view the night sky, such as Aboriginals in Australia. And she shows some funny details: in Western countries, people generally think there is a man on the moon whereas in Asia, they are more likely to think this is a rabbit.

Text: Linda van Putten
Mail the editors
Ewine van Dishoeck is President of the International Astronomical Union, which celebrates its centenary this year. To mark the event, Van Dishoeck has been invited as guest curator of the exhibition. Cosmos: Art & Knowledge will be on show until 16 March 2020.