Our year on social media
From a successful April Fool's prank and alumni love stories to a fabulous float on 3 Octobe: these were the highlights of our year on our social media channels. Hope you're following us?
We celebrated our 444th birthday this year, and this didn't go unnoticed
The Beadle helped us pull an April Fool's prank
With the Beadle's workload increasing, students could apply for the job of Student Beadle... April Fool!
Student life isn't just about studying – it's about meeting people too
This was the resounding message in the responses that flooded in when we asked our alumni about their university friendships and romances
In the Netherlands, your studies begin at that magic moment when you can hang your backpack from a flagpole (it makes complete sense, honest) to say: Hurray! You've passed!
Leiden looked enchanting on the Night of Discoveries...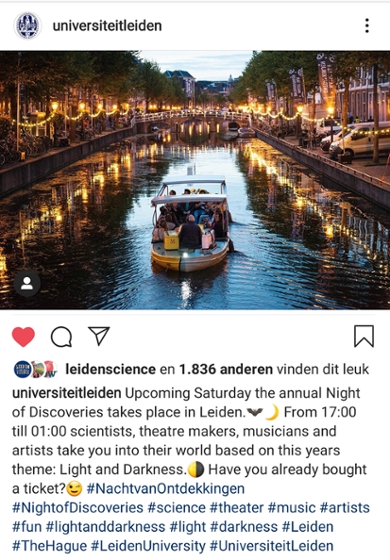 ... and we also shared some pretty pictures of The Hague!
This year, for the first time ever, more women than men were awarded PhDs
The opening of the academic year was accompanied by a protest by WOinActie
We helped make the biggest party in Leiden that bit better: we joined in the Grand Parade on 3 October
And fitting for the time of year: the floating Christmas market in Leiden proved to be a draw
Seasons greetings and a Happy New Year!
Hope to see you on Facebook, Instagram, Twitter or LinkedIn.