Outreach programme spaceEU launched at one of the world's largest science festivals
On 5 September, spaceEU was launched at the Ars Electronica Festival in Linz, one of the world's largest science, technology and media art festivals. This 1 million euro European-funded project is coordinated by Leiden Observatory. SpaceEU fosters a young, creative and inclusive European space community through a unique programme of education and public engagement.
spaceEU implements an exciting space outreach and education programme to spark the interest of young people in STEAM (Science, Technology, Engineering, Arts and Maths), and to encourage them to consider space-related careers. It especially a special focuses on girls and underserved communities. The project inspires and broadens young minds, develops a sense of European and global citizenship, and through our shared human relationship with space, fosters long-term partnerships between people from different countries and cultural backgrounds. The project, which is coordinated by Pedro Russo, runs until November 2020.
'As spaceEU coordinator, the Leiden Observatory oversees the work of the project partners, making sure the project goals and objectives are reached and all tasks are delivered on time,' says Project Manager Suzana Filipecki Martins about the role of Leiden. 'Besides coordination, Leiden is also responsible for the communication, dissemination, advocacy and sustainability actions.'
Step into space
One of the highlights is Step into Space, which is part of the launch of spaceEU at the festival. It is an exhibition that explores the wonders of space and their impact on our daily lives, and how space has stimulated innovation and inspired new thinking. In addition, Ars Electronica is presenting two participatory events. On 6 September, the very first edition of Space Café will bring together artists, experts and the public to discuss the relation between space, art and the climate crisis. And on 8 September, at the 'u19 – CREATE YOUR WORLD' exhibition, young artists Jaqueline Eder, Selina Maurovich, Kilian Mayer and Stephanie Stigler will present their film Blue Moon. For more information, visit the festival website.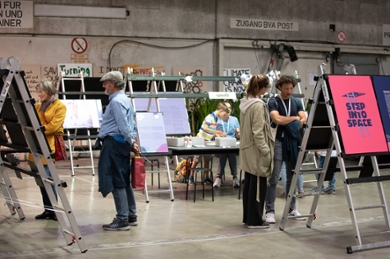 Engaging and educating
SpaceEU organises activities throughout Europe, in ten different countries. These include engagement activities, which promote dialogue between space stakeholders and young people, parents and society-at-large through three participatory formats: Citizen Space Debate, which brings together space stakeholders and citizens for an open discussion on controversial topics; Space Unconference, where participants co-create the programme of a space conference; and Space Café, a short and informal talk presenting a current topics of space research, innovation, policy or design.
Besides outreach activities, spaceEU also encompasses educational activities. These include Space in the Classroom, where professionals from the space sector will visit schools, and space4youth, a small youth conference where young people will present their knowledge, projects and views about space exploration.
SpaceEU will also engage educators to promote the uptake of space content in primary and secondary education. With local teacher training, summer schools and a massive online open course on climate change, spaceEU will empower teachers at every level to teach space-related topics. And finally, spaceEU partners will work closely with EU and national policymakers to promote the role of education and public engagement in European space strategy.
Night of Discoveries
On 21 September, spaceEU is hosting a series of activities for young people in Leiden during Middag van de Ontdekkingen in the Dutch National Museum of Antiquities in Leiden.