Alumna Gillian King: remedial educationalist and chicklit author
Clinical Child and Adolescent Studies graduate Gillian King has two different jobs. Together with a partner, she runs 'Het Leerhuis,' a support centre for children with learning difficulties. But she also writes books, chick lit to be precise. This is how she has made something of a name for herself in the Netherlands.
King, whose parents thought it would be fun to give their daughter an English name to go with their English surname, explains that after she graduated she almost took the wrong path. A placement during her undergraduate degree in Education and Child Studies saved her from doing this. 'I'd always wanted to work with problem families. But during a short placement with the child protection service, I discovered that it wasn't right for me after all. Massive problems, sometimes incest even... I found it depressing and brought all these problems home with me. I also discovered that such a big, anonymous organisation didn't suit me. Meetings with lots of people... No thank you.'
Chance
By chance, King fell into exactly the line of work where she wanted to be. After she graduated, she found work as a special needs teacher at a number of secondary schools that had joined forces to conduct research into dyslexia. The schools worked with a company that specialised in providing help to children with this disorder. And as luck would have it, the owners of this company – no spring chickens – wanted to stop. They were willing to share their client base too. King and intern Tineke Valentijn jumped at the chance and suddenly found themselves with a business with a ready-made client base. That is almost 15 years' ago, and now six of them work there.
Who? Gillian King, graduated in 2004
Degree: Education and Child Studies, specialisation in Clinical Child and Adolescent Studies
Member of a student association? 'No. I was already living in The Hague with my husband – my boyfriend at the time – and didn't feel the need for the real student life.'
Favourite spot in Leiden? 'I regularly drank coffee with my fellow students at one of their flats or at Van der Werff. Those are places that I have fond memories of.'
Emphasis still on dyslexia
The emphasis of King's work still lies on children with dyslexia. Many children are referred to Het Leerhuis through the Hague Centre for Educational Support, which is active at a lot of schools. These children receive help in the form of a standardised method of around 48 sessions. They also have to do homework five days a week. 'The method works really well,' says King. 'A lot of progress can be made in a year and a half. But you do need a lot of discipline to do the homework. Some children begin to lose steam after a few months, which is a shame.'
Het Leerhuis also helps children from year four at primary school with other problems. King: 'A child might have difficulty with reading or arithmetic and need some help or could suffer from a fear of failure, have difficulty with technical reading or be gifted. This can be associated with socio-emotional problems.' She enjoys the work. 'It makes me happy and I know it's something I can do for the rest of my life.'
Bigger and smaller again
Despite not liking 'big,' King allowed herself to be seduced into opening more branches about five years ago. 'It was the initiative of our colleagues themselves. One wanted a second branch in Delft and the other in Pijnacker.' It seemed like the logical option, but once everything was completed, King realised that she didn't actually like the new constellation. 'I should have known. All of a sudden I had loads of colleagues that I hardly knew, which was exactly what I didn't want.' King and her partner decided to return to one branch, and got rid of the others. And everything was back to normal again.
Ticking along nicely
King married her childhood sweetheart and has two children, a boy and a girl. She lives in a nice house in The Hague. Ten years ago with everything ticking along nicely, King was seized by a feeling of, Is this all there is? That prompted her to take up an old passion: writing. As a child, she had filled dozens of exercise books and diligently kept a diary. This intense urge to write ebbed away during secondary school and her studies in Leiden. But now she decided to take up the pen again and began to write a story. 'At first, I didn't even know if I wanted to write a novel or a thriller. By chance, I discovered a writing competition on a chick-lit site that listed the rules of the genre. I'd never heard of the term chick lit, but that's what it ended up being. I wrote for myself until someone said I should it to a publisher.'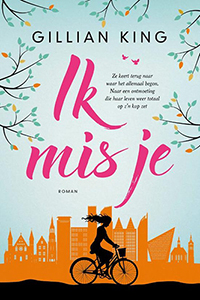 Chick lit is a young, breezy genre with a happy end and a mainly female readership. Most of its readers are in their 20s and 30s. Bridget Jones's Diary (1996) and Sex and the City (famous for the series but originally a book from 1997) are seen as the mothers of the genre. Chick lit is a modern continuation of the Dutch streekroman (regional novels) genre. It's no coincidence that Zomer & Keuning also publishes streekromans; new ones are still being written. Left: King's latest book, which was published in May 2019.
Six novels and some short stories
Zomer & Keuning publishers were keen to publish King's book, and that was the beginning of her success as a writer. She has written some short stories for collections by different authors and also has six novels to her name. She has sold over 30,000 books and is also a hit in libraries and streaming services for e-books. A fun aspect of being a writer is the promotional activities where she gets to meet her readers. She writes enthusiastically about this on her blog.
And now?
The reviews of her books are getting better all the time. Her latest book, 'Ik mis je,' which was published in May 2019, got top marks on chicklit.nl. 'This shows that I was learning,' says King. 'But the publisher also wanted me to produce a book a year, and in combination with my work and family I was too rushed.' She is now deliberating on how to continue her writing career. The contract with the publisher has ended, so now is the time for it. Does she want to stay with the same publisher? Does she want to carry on writing chick lit? Or would she rather attempt a thriller after all?
Overlap
Is there any overlap between the two jobs? 'There is,' says King. 'I try to teach children a love of language to get them reading. It helps that I write books. They find it interesting.' And does her degree overlap with her writing? 'Strangely enough, it does. I wrote about the mourning process in my last book. Fellow writers say I described it really well. That I know somewhat more about this is definitely because of my degree.'
Text: Corine Hendriks
Mail the editors