The Hague Program for Cyber Norms welcomes Visiting Fellow Russell Buchan
Russell Buchan will be a Visiting Fellow at The Hague Program for Cyber Norms at Leiden University's Institute of Security and Global Affairs from 19 August to 13 September.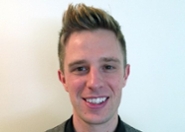 Lecture on 12 September 2019
As part of his Visiting Fellowship, Russell Buchan will hold a lecture on 12 September 2019 on 'Industrial Cyber Espionage under International Law'. Please register via email: info@thehaguecybernorms.nl.
Russell Buchan
Dr Russell Buchan (@RussellBuchan) is a Senior Lecturer in international law at the University of Sheffield, UK. Russell has published extensively in the field of international law and especially on the role of international law in achieving cyber security. On the topic of cyber security, Russell has recently published a sole authored monograph entitled 'Cyber Espionage and International Law' (Hart, 2018) and he is also a co-editor of the 'Research Handbook on International Law and Cyberspace' (Edward Elgar, 2015). In addition, Russell has published ten essays on the application of international law to cyberspace, featuring in internationally renowned journals such as the Journal of Conflict and Security Law, the Chinese Journal of International Law and the Cornell International Law Journal.
The Hague Program for Cyber Norms
The Hague Program for Cyber Norms focuses on the development and implementation of cyber norms. We ask how norms are and can be applied to support cyber security, stability and peace. For this purpose we examine how consensus is developing, among governments, academics and the society, on certain norms and how they should apply to State behavior in cyberspace. We also investigate the development of normative thought and scholarship in this field and we contribute to the dialogue about standards of responsible behavior in use of ICTs.