Discover hidden gems at the University this summer
This summer, everyone from Leiden locals to day trippers and tourists can take a guided tour of the prettiest University buildings in the centre of Leiden. Our exclusive Summer Tours offer a glimpse behind the scenes at the Academy Building, the P.J. Veth building and Bibliotheca Thysiana: buildings with a long and rich history.
Range of languages
History students will be giving the tours on four days a week, from Tuesday to Friday, in the period from 23 July to 16 August. The tours will generally be in Dutch, with the odd tour in English. Translations will be available on paper in English, German, Italian, Spanish, French, Russian, Japanese and Chinese. These translations were done by language students at the University.
P.J. Veth building
Originally the Botanical Laboratory and National Herbarium and hidden away in the narrow Nonnensteeg alongside the Academy Building, the P.J. Veth building recently underwent extensive restoration work for the Faculty of Humanities. It can be seen in all its glory from the front garden of the Hortus botanicus and has a rich history. The Herbarium's collection included 2.5 million plants and 2,500 metres of books in 1964. The building, which is currently used for research and teaching, is named after 19th-century Professor of Geography and Ethnology, P.J. Veth, and has many unique features that were preserved during the restoration, making it well worth a visit.
Photo above: the original benches and desks were returned to the lecture hall at the P.J. Veth building once the restoration work had been completed.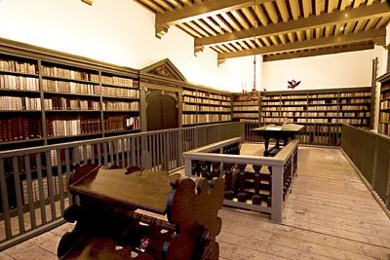 Biblotheca Thysiana
There are few spots in the Netherlands with such a rich literary history as Rapenburg in Leiden. On his death in 1653, Johannes Thysius, or Johan Thys, left around 2,500 books and thousands of pamphlets. He stipulated in his will that a library – Bibliotheca Thysiana – should be built bordering on Groenhovengracht. Here anyone with an interest, generally students and scholars, would be able to study these works. It is still possible to consult these age-old works, but nowadays one orders and studies them at the University Library on Witte Singel. Thysiana, which is rarely open, will be revealing its treasures four times in August during the Summer Tours.
A unique glimpse behind the scenes
Always wanted to visit the Sweat Room in the Academy Building? Eager to see the recently restored P.J. Veth building? Fancy a look inside the 17th-century Bibliotheca Thysiana? The Summer Tour costs 4.44 euros per person, including coffee or tea afterwards in Grand Café at the Hortus botanicus.