The last ILS Lunch Seminar of this academic year in hindsight
Last Thursday, the last ILS Lunch Seminar of this academic year took place. In this successful and well-visited edition, Prof. Pablo Mendes de Leon and Albert van Marwijk Kooy gave two very interesting and engaging presentations.
Prof. Pablo Mendes de Leon gave the first presentation on "The boundaries of law in the context of aviation safety: practices and remedies". By using the example of the MH17 accident of five years ago, Mendes de Leon was enabled to explain some of the boundaries international law presents. This was especially clear in his explanation of the comparison between MH17 and the Lockerbie bombing in 1988, in which was able to show the large differences between the political climate between the two tragedies.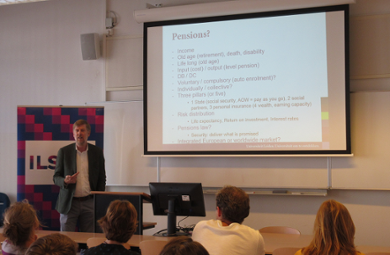 The second presentation was given by Albert van Marwijk Kooy on "The Dutch pensions polder product; a blessing in disguise?" With reference to the Dutch pensions triangle, Van Marwijk Kooy explained the basics of the internationally acclaimed Dutch pension system. In his presentation, he touched upon the new changes which were agreed upon last month, which will lead towards a more sustainable system. Even though pensions constitute a black box for most people, Van Marwijk Kooy succeeded in shedding some light on this complex but very interesting topic.
We would like to extend our thanks again to all of those who participated in our program this year. The ILS Lunch Seminar-series will continue in September. Would you like to present yourself and your research in one of our monthly seminars? Do not hesitate to contact our ILS student assistant! Please visit our website for more information on ILS 2.0.