Leiden physics acquires original Horndeski
The Leiden physics institute LION has bought a painting by the American physicist Gregory Horndeski, who wrote a brilliant article about gravity in 1974. After being ignored for 35 years, Horndeski's paper became a huge hit among cosmologists, unbeknownst to Horndeski himself, who had made a career switch to being a painter.
Horndeski Scalar Theory, Past, Present and Future
Around 2010 Gregory Horndeski, the accomplished artist, received an unexpected phone call by PhD student Alejandro Guarnizo Trilleras. Trilleras was looking for a beautiful cover illustration for his PhD thesis, and hoped to use a painting by Horndeski, inventor of the class of universe models that bears his name.
This is how the artist found out that he had become a highly cited scientist. His sleeping beauty, the 1974 paper 'Second-order scalar-tensor field equations in a four-dimensional space' has gathered almost one thousand citations by cosmologists, most after 2010.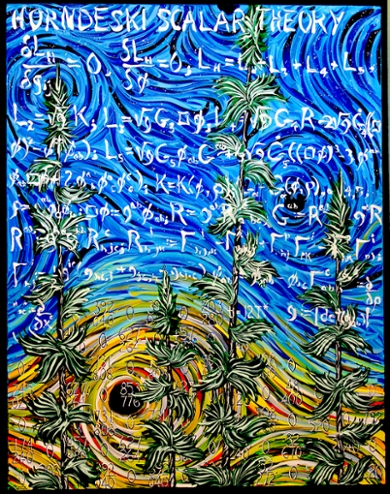 Vincent van Gogh
Inspired by his late success, Horndeski published a couple of new articles about gravity. He also started using concepts and formulas from physics in his paintings, such as the work 'Horndeski Scalar Theory, Past, Present and Future', which bears a strong resemblance to his inspiration Vincent van Gogh's paintings.
This same painting that has recently arrived in the Lorentz Institute at the Leiden physics institute LION, acquired on the initiative of cosmologist Alessandra Silvestri. 'I really loved his story,' says Silvestri, 'and when I found out that he was using cosmological formulas in his paintings, I thought: couldn't we purchase this painting?'
The work will be on display in the Casimir room in the Oort building. LION's acquisition is preceded by the Groninger Museum, which bought two of Horndeski's works in 1986. However, those don't have any formulas.