'It is important to have discussions about topics that not everybody agrees on'
Today Mikhail Khordorkovsky visits the Leiden University Campus of The Hague to debate with students about the future of Russia. It is the first time this critic of Putin and former captain of industry visits the Netherlands. This event has been organised by the organisation Raam op Rusland and the study association of International Studies, BASIS.
Zlatka Kuvendjeska, president of the Eurasia Committee of BASIS and student of the bachelor programme International Studies, had a big role in organising this event.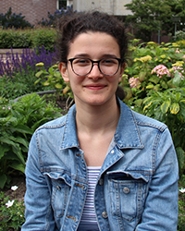 Why did you invite Mikhail Khodorkovsky?
'He is well known and lately he has been on the news a lot. Especially for students it's important to have something that is topical and debatable. Because of his experience of being imprisoned in Russia for more than 10 years he can share this unique experience on the treatment of prisoners in Russia.'
Did him being a controversial person play a part in inviting him?
'Yes. It is more interesting to invite people who have a story. And when people have a story they are usually out there.'
Why did you choose to make this event a Q & A?
'It is important to have discussions about things that not everybody agrees on. We chose to turn this event into a dialogue, because then it won't be a one-sided story, which it would have been if it was just a lecture. When it is possible for students to engage in a conversation with the speaker it is possible for people to disagree with him. This is important especially because this speaker is controversial. At the end of the day, we as BASIS, want to see interaction.'
What is the importance of this event? 
'One of the things I have learned from my studies at Leiden University is to always hear the other side of the story. That you try to form your opinions based on multiple resources. To have someone who has been through the things that Khodorkovsky has share his experience, is of huge importance for someone like me that studies the region of Russia and Eurasia, to understand what is happening there. Having someone telling you the things they went through in person makes it more real.
In addition, a lot of classes about Russia get overshadowed by the topic of Putin. Events like this can be a great addition to our studies of the region Russia.'
How did you arrange this event?
'Raam op Rusland arranged the communication with Mikhail Khordorkovsky. BASIS is responsible for the assistance on the event. I was personally responsible for arranging the logistics behind the event and I will be the representative of BASIS. This is not our first time organizing events like this. Together with my Committee we frequently host guest lectures and visit embassies. I would also love to thank the helpdesk of the Wijnhaven Building, the BASIS board and Jaap Kamphuis, who is the program coordinator of the BA International Studies. They have been very supportive and have made this event possible.'
If possible, who would you like to invite next for a similar event?
'Some of the girls of Pussy Riot. Either Masha or Nadia. But, this is my personal opinion. They are famous and they have knowledge of prisoner treatment in Russia as well as certain interesting opinions on feminism and being women in Russia.'
About the study association of International Studies
BASIS, which stands for Bachelor Students of International Studies, is the study association of International Studies. Aside from providing study books with a discount and arranging events, they take priority in building a community for students of International Studies. Part of BASIS are 28 committees that focus on specific regions, like the Eurasia committee, or specific interests, like cooking. These committees often work together to organise events for students, of which most are career orientation events. A region committee aims to promote their area, that students can specialise in.
About Raam op Rusland
Hubert Smeets, one of the founders of the platform Raam op Rusland (translation: Window on Russia), thinks events like this will provide students with international connections and connections with professionals from non-academic fields. Having connections like those is important for these students. He also tries to provide students with internships and projects to make them more aware of their opportunities on the job market.
With the collaboration between Raam op Rusland and the Faculty of Humanities of the University of Leiden, Hubert Smeets tries to stimulate systematic research on Russia and former Soviet-republics and to make this research more accesable to a wider audience.