LUC and MIRD students attend Hybrid Threats Simulation in Porto
From 11-13 April 2019, a group of 11 students from LUC and the Advanced MSc. programme in International Relations and Diplomacy attended the event NATO@70 in Portugal – Countering hybrid threats with hybrid containment: NATO's mission for the 21st century. Leiden University's participation in the event was facilitated by Dr. Joris Larik.
70th NATO Anniversary
The event, which was organized on the occasion of the 70th anniversary of NATO, took place at Universidade Portucalense in Porto. It consisted of an international conference, a simulation game and community outreach activities. Aimed at bringing together young leaders from NATO allies and Partnerships for Peace countries, participants hailed from over 15 different nationalities and various universities.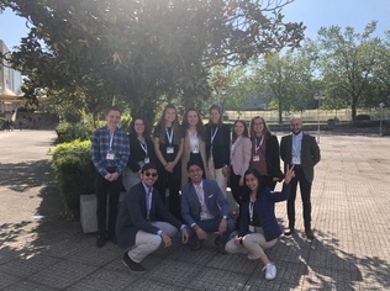 Simulation Game: New Generation Warfare
The first day included keynote addresses by a retired Major-General of the Portuguese army, Carlos Martins Branco on the importance of partnerships, by Alexandros Papaioannou on NATO's current agenda, and by Andriy Karakuts on the conflict in Ukraine in 2014. In the afternoon, the dynamic simulation exercise of the New Generation Warfare centre started, which would last for three days. Small groups discussed their responses to hybrid threats. These responses could be both joint military responses, as well as non-military responses. Furthermore, the countermeasures could be taken at national level, EU level, UN level or, of course, NATO level. In doing so, the students gained a thorough understanding of the complexity of contemporary international threats and of NATO's role in securing allies and exercising cooperation with other actors. The responses of the groups were sent to the organisers of the simulation, who devised countermeasures to the responses. Students received feedback from experts in the field throughout.
At Leiden University College The Hague you will study the global challenges of the 21st century by specializing in one of six interdisciplinary majors (BA/BSc). The flexibility of our programme allows combining academic disciplines with students from all over the world.
The two-year Advanced MSc. International Relations and Diplomacy programme offers you a unique blend of academic education in international relations and political science with practical graduate education and training in international negotiation and diplomacy.