The Hague Program for Cyber Norms welcomes Visiting Fellows Danny Steed and Kubo Mačák
We are delighted to welcome Dr. Danny Steed and Dr. Kubo Mačák as Visiting Fellows of The Hague Program for Cyber Norms at Leiden University's Institute of Security and Global Affairs from 1 Apr 2019 - 26 Apr 2019.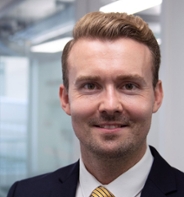 Dr. Danny Steed
After completing his PhD in 2012 Danny Steed was appointed Lecturer in Strategy and Defence at the University of Exeter, where he helped to build the nascent Strategy and Security Institute. His academic specialisms lie in strategic theory, cyber security and warfare, intelligence practices, future technology, and the history of war broadly.
He avidly continues his own scholarship with numerous publications to his name, and continues to lecture at several universities, focusing on cyber security currently. Danny was recently contracted to write his second book, The Politics and Technology of Cyberspace, with Taylor & Francis.
Danny left the University of Exeter to join the Cabinet Office in operational cyber security, where he served for two years in both Operations and Incident Management. His specialism during this time was facilitating confidential information sharing between government and industry as the Project Lead for the CiSP (Cyber Security Information Sharing Partnership) initiative. As part of the UK Government Danny has briefed numerous international delegations on these practices, as well as a high number of industry partners within the UK. Danny left public service to join ReSolve Cyber as its Head of Strategy in 2017.
Dr. Kubo Mačák
Dr. Kubo Mačák is a Senior Lecturer in Law at the University of Exeter (United Kingdom). He holds a DPhil in international law from the University of Oxford. Kubo has been a visiting researcher at the Max Planck Institute for Comparative Public Law and International Law in Heidelberg (Germany), the University of Haifa (Israel), and Wuhan University (China). He has worked at the United Nations ad hoc tribunals for the former Yugoslavia and Rwanda. He is currently serving as a core expert on the Woomera Manual on the International Law of Military Space Operations project. His research interests span international cyber law, international humanitarian law, and general international law. Most recently, Kubo is the author of Internationalized Armed Conflicts in International Law (OUP 2018).
Lectures
As part of their Visiting Fellowship, Dr. Kubo Mačák will hold a lecture on 4 April 2019 on 'Modern cyber operations and the oldest branch of international law, the law of armed conflict'. On 9 April, Dr. Danny Steed will hold a seminar on 'The Politics and Technology of Cyberspace'.
Please register via email: info@thehaguecybernorms.nl