Life Sciences Café visits NeCEN
On 21 March The Netherlands Centre for Electron Nanoscopy (NeCEN) hosted the Life Sciences Café. Around 60 people from neighbour companies from the Leiden BioScience Park visited the facility for cryo-electron microscopy to get a glimpse behind the scenes. Head of NeCEN Ludo Renault believes it was a big success.
Networking with neighbours
Each month, companies from the Leiden BioScience Park come together for drinks at the Life Science Café. Normally this networking event takes place at lunchroom De Stal. 'But last year the organisation sparked the idea of changing scenery', tells Renault. 'And since we go almost every month, we decided we should host the event for once.' More than 60 curious visitors from different local companies came to the new Gorleaus building. After a warm welcome from the manager of the BioScience Park Gwen Overbeke, the floor was given to Renault. He introduced NeCEN facility to the visitors. After this, everyone got a guided tour along the NeCEN facility and learned about all the opportunities it has to offer.
New collaborations?
According to Van Overbeke, the visit to NeCEN was a big success. 'I heard many positive comments.' Renault shares her thoughts: 'I also received lots of positive feedback from all people who joined the tours. They were all very impressed by the new Gorleaus building, the machines and by what NeCEN can do.' The visit of the neighbouring companies already sparked ideas for new collaborations. 'But for now, it was just brainstorming of course,' Renault says. The main point of the event was to meet, network and present what NeCEN can do. 'All our flyers disappeared, so it was a success for sure,' he laughs.
Education
'We are very pleased to have hosted the Life Science Café at NeCEN this month. We would like to thank Gwen van Overbeke and her team, as well as the University facilities led by Kees Schoonwater for a flawless organisation. We didn't have to worry about anything.' Renault believes the event was a great opportunity to network with local companies located in the bioscience park. 'It is always enjoyable to give tours of NeCEN and explain what we do and what can be done with cryo-Electron Microscopy. Being part of Leiden University is also about teaching and education and I see those tours as an introduction to the field of Structural Biology.'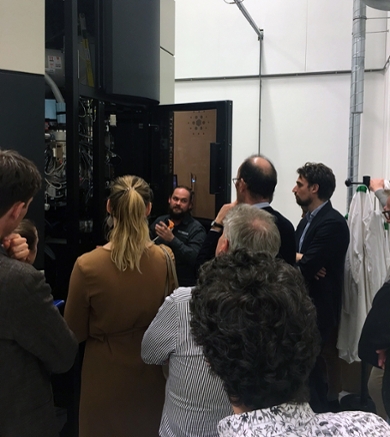 NeCEN
NeCEN is an open-access facility for high-resolution cryo-electron microscopy of biological samples. In cryogenic electron microscopy (cryo-EM), researchers cool biological samples to extremely low temperatures close to absolute zero of -273.15°C. In this way, they capture molecules in great detail and study the composition of the smallest building blocks of life. At NeCEN two state-of-the-art Titan Krios transmission electron microscopes allow cost-efficient automated data collection.