When human rights clash with politics and desire for power: reflections on the current status of liberal democracy
On Monday 10 December, the Polish Commissioner for Human Rights dr. Adam Bodnar delivered the eighth Raymond and Beverly Sackler Distinguished Lecture on Human Rights at Leiden Law School. The event marked the annual celebration of International Human Rights Day, which was proclaimed to commemorate the adoption by the UN General Assembly, on 10 December 1948, of the Universal Declaration of Human Rights. The guest lecture was organised by prof. Rick Lawson.
Adam Bodnar is the Commissioner for Human Rights of the Republic of Poland. He plays a very active role in the recent debates on the rule of law in his country, and tries to uphold judicial independence and fundamental freedoms. In his lecture, Mr. Bodnar shared his experiences with the protection of human rights in Poland, and the reasons behind the decrease in consensus about liberal values and democracy. Furthermore, he elaborated on the factors behind the rise of populism, paying special attention to the particular situation in Central European states. He ended by discussing some strategies that had been effective in protecting the rule of law.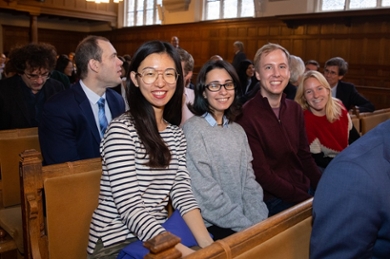 Human rights in Poland
After winning the elections of October 2015, dr. Bodnar observed, the Law and Justice party was able to achieve the adoption of a series of measures that seriously weakened the position of independent institutions. Following the Constitutional Court's loss of independence in 2016, the Prosecutor's Office was subordinated, as were national radio and television, the civil service and the National Council of Judiciary. Most recently the Supreme Court was the subject of a series of reform measures. The European Union had responded in various ways, which proved to be extremely important in securing independence of the Polish judiciary. Small gestures are also crucial, dr. Bodnar argued. Thus, when the First President of the Polish Supreme Court was forced to retire, she was immediately visited by three prominent Dutch judges, including the President of the Supreme Court of the Netherlands. This visit was an important sign of solidarity with Polish judges.
Dr. Bodnar ended with a quote from the Polish poet and Nobel Prize winner Czeslaw Miłosz in 1947: "The avalanche changes direction depending on what rocks it encounters in its path". The demise of human rights' standards could be portrayed as an avalanche, which takes on its road more and more snow. It is sudden, unexpected and determined. But, as dr. Bodnar stated, "we could all be rocks which the avalanche encounters in its path. It depends upon us what kind of rocks we are. If we take the Constitution, the rule of law and human rights as granted, the avalanche may just go – rocks will be flat and easy to overcome. But if we stand up to rights, each rock might be sturdy, massive, colossal or even monumental. All together we may change the course of the avalanche – or even stop it".
Photos: Monique Shaw