From the Colossal to the Microscopic: exhibition on archaeological sciences in Van Steenis
Scientific methods and techniques have been employed in archaeological research since the very birth of the discipline. It is impossible to imagine modern archaeology without this expertise in archaeological sciences. These archaeological sciences take centre stage in the new temporal exhibition at the entrance of the Van Steenis building.
Evolution of humanity
The exhibition, titled From the Colossal to the Microscopic, presents the evolution of humanity from a diachronic perspective through the lens of archaeobotany, archaeozoology, and material culture studies. It takes you from glacial landscapes to volcanic eruptions, from flint to ceramics, from prehistoric fishing to modern plant use.
It illustrates the stories and wealth of information locked into artefacts and ecofacts that await to be revealed by the archaeological scientist.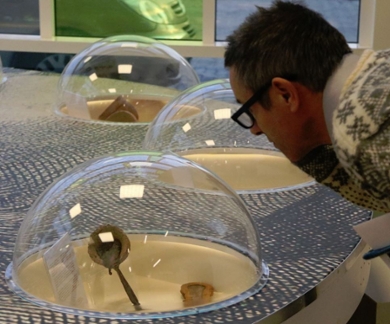 Archaeological Sciences
The exhibition features objects that are being studied by staff members from the department of Archaeological Sciences of the Faculty of Archaeology. It will be held until May 2019.
See for more information the PDF catalogue.