Finally a book about Boerhaave the botanist
Herman Boerhaave (1668 - 1738) is generally known to have been a dedicated doctor and chemist. However, the significant role he played in botany is less well documented, according to Margreet Wesseling. So she decided to write about about Boerhaave the botanist to mark the 350th anniversary of his birth on 31 December.
You have hard-working people and you have Herman Boerhaave. At Leiden University, he held no fewer than three of the five chairs at the medical faculty, he was Rector Magnificus and he was also praised by his students as a gifted lecturer. He also worked overtime as a doctor to keep the people of Leiden healthy. And on top of all this he was a chemist. These many roles hve been noted in different biographies.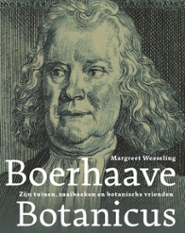 An under-exposed side of the multi-talented Boerhaave
One important aspect of his life remained firmly under-exposed, says author Margreet Wesseling: his important contribution to botany. True, many people know that he was director of the Hortus botanicus, but how he fulfilled that role is shrouded in mist. 'The authors of books abour Boerhaave were themselves often doctors,' says Wesseling. 'As a result, they gave a very good picture of his contribution to medical science, but his interest in plants and trees often received less attention.'
Until now, that is. In her book Boerhaave Botanicus (on sale from 20 December) Wesseling - herself a biologist and Leiden alumna - describes the underexposed side of all-rounder Boerhaave. It was a project that she initially started 'more or less by chance', but that gradually became more and more like a mission. 'The more I read, the more I was fascinated by him. It's amazing! That man must have been busy day and night to do all that he did! My curiosity gradually turned to admiration. I realized that this man deserves a botanical biography.
More travelled and gentler than expected
Wesselings's search yielded some interesting facts, which at times contradict our image of Boerhaave. He is said to have been very much a home bird, and to have preferred to leave the city of Leiden as little as possible. In his relatively unknown seed books, however, Wesseling discovered that he picked a daisy species ex ericeto Bredano [from the heathlands of Breda, ed.]. He also crossed the Hollands Diep, because at the ferry from Moerdijk he took with him marsh ragwort, 'with leaves sawn like the willow'. So Boerhaave was apparently more of a traveller than is sometimes suggested.
Wesseling also discovered an unexpectedly soft side of Boerhaave. For example, the generally rather businesslike scientist - who did not even mention the death of three of his children in his correspondence with his botanical friends - appeared to be able to write very tenderly about the Austrian alpine rose he sowed on his estate Oud-Poelgeest in Oegstgeest. He had planted the shrub on an earthen hill, 'surrounded on all sides by other Austrian plants between which he seemed to spend time cheerfully'. Boerhaave was serious disturbed when the mountain plant did not survive in the flat Netherlands. 'I don't know what goes wrong with Ledon alpinum every time it is cultivated - however diligently - outside its homeland,' the botanist writes desperately.
'Then I fall for a man like that'
'Before I started this search, I found all the attention for Boerhaave a little exaggerated,' says Wesseling. 'I never thought all this praise could possibly be justified. But then you suddenly have all those seed lists in front of you in his handwriting. And then you see that he kept on planting, despite the fact that many of the exotic plants in his garden quickly die. Then I fall for such a man. Does that sound too romantic? Well, that's just the way it is.'
Text: Merijn van Nuland
Main image Oud-Poelgeest (Photo: Saishiva via Wikipedia)
Mail the editors
Visit the exhibition in National Museum Boerhaave
National Museum Boerhaave is also devoting the attention to the 350th anniversary of the museum's namesake. The exhibition on Herman Boerhaave and the golden age of science focuses on fake news avant la lettre. In his day Boerhaave fought against fake news, for example against the common view that the body is governed by the ratio of acids to salts. The exhibition is on view until 1 September 2019.