Rina Visser: Art becomes a process
On 1 November 2018, Rina Visser-Rotgans obtained her doctorate with her thesis on 'Veranderend kunstenaarschap. De rol en betekenis van de kunstenaar in participatieve kunstpraktijken' (Artistry evolving. The function and definition of the artist in participational practices of art). Rina's research focused on a relatively new phenomenon in the art world: artists who are not simply creating an art form, but who are collaborating with civilians in the coming about of a project.
This calls for a wholly new approach by the artist because these participants have no prior experience in creating art. Coach, teacher, director, link in social relations: the artist has to be able to take on all these roles. Projects may vary from drama, to sculpting, to crafting.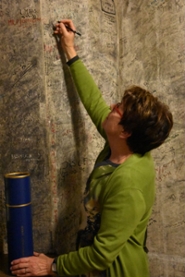 Meaningful interaction
Rina states that the appeal of this art form cannot so much be found in the resulting art work but in the process: the art is in the meaningful interaction between participant, artist, and project. In order to value this properly, one should look at it from a different angle. It is not about the classic 'Royal Albert Hall quality', but about the beauty that is being created when the participants gain a new perspective on the world that surrounds them. It creates possibilities to work towards social cohesion, mutual understanding, and new ways for people to express themselves.
Rina worked on her thesis under the supervision of the Leiden University Dual PhD Centre and the Academy for Creative and Performance Arts. She combined her lectureship Arts & Culture at the Hogeschool InHolland with her doctoral research, thus creating a wonderful interaction between work and research. Her (co-)supervisors were Frans de Ruiter, Paul van Geert, and Pieter Slaman.