Jan Terlouw spreads hope at Diversity Symposium
Physicist, former D66 party leader and author, mainly of children's books, Jan Terlouw, gives three to four readings a week. Even at the age of 86 he is tireless in communicating his message: 'We need to regain trust in one another, and we have to seek fraternity.'
Jan Terlouw is concerned about the course mankind is taking, but he continues to spread his optimistic message: it is a way of creating hope. It is virtually impossible for audiences to remain unmoved when he speaks: you start to believe that everything will turn out fine, as long as you want it to.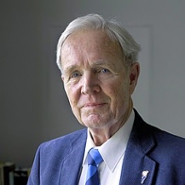 Fraternity
Terlouw's 5 May lecture in 2014 was closely linked with the theme of diversity and inclusiveness. His talk focused on the third concept of the French Revolution: fraternity - alongside freedom and equality. It is a concept that has since become somewhat submerged. Terlouw, more than four years later, commented on the phone, 'It's about accepting each other, making people feel like they belong, not excluding people because they are gay, immigrant or female. Fraternity often lies in the small things, from person to person.'
Trust
In November 2016 Terlouw made a strong impression when he appeared in the Dutch TV talk show De Wereld Draait Door, with his plea for trust. As befits a good speaker, he used a strong image that has remained in the minds of his listeners: the string attached to the letterbox of your front door, to make it easy to open the door. That image represented the trust that people had in one another, and it brought it home to everyone just how far we have strayed away from that ideal.
Immediate gratification
Young people, too, are impressed by Terlouw. He wrote a manifesto in 2017, together with the youth organisations of ten political parties. The manifesto didn't mention that string with the key; instead it talked about the climate threat, another subject that is close to Terlouw's heart, alongside the other values that he is keen to disseminate. 'The world has become more like a business,' he says, 'and its main concern is instant gratification.' Terlouw, like many other people, is shocked by the abuse some users of social media allow themselves, and by the opinions that people present as facts. 'Be wary of people who say they know something for sure,' he warns. In 2014, in the national 4 May lecture for education, he argued, 'Knowledge is the enemy of dictators.' That has changed: whole groups of people treat fake news as the truth and they pass it on as it were the truth; and people who ought to know better claim that the truth is fake news.
Accept and respect
If people from outside the Netherlands want to live in our society, they have to accept and respect the principles of the constitutional state, Terlouw believes. 'If they don't, they should be punished or expelled. Our democracy must not be threatened, I am absolutely firm in that belief. It took us over a hundred years to build our democracy and we should preserve it. Everyone is equal before the law, and that's a principle we should live by.'
In the same week that this interview with Terlouw took place, the first gender-neutral passport was issued to a person whose gender could not be determined at birth. 'That's a wonderful step forwards,' Terlouw commented, 'and a form of fraternity!'
Text: Corine Hendriks
Mail the editors