Henk Hulshof and Yannick van den Brink in Mongolia for juvenile justice conference
On 22 November 2018, Henk Hulshof and dr. Yannick van den Brink from the Department of Child Law participated in a juvenile justice conference in Ulaanbaatar, Mongolia. The central theme of the conference was 'establishing a child-friendly criminal justice system in Mongolia'.
Hulshof and Van den Brink travelled to Ulaanbaatar on invitation of the Mongolian Ministry of Foreign Affairs and Ministry of Justice and the European Union, in the framework of the Human Rights Dialogue between Mongolia and the EU.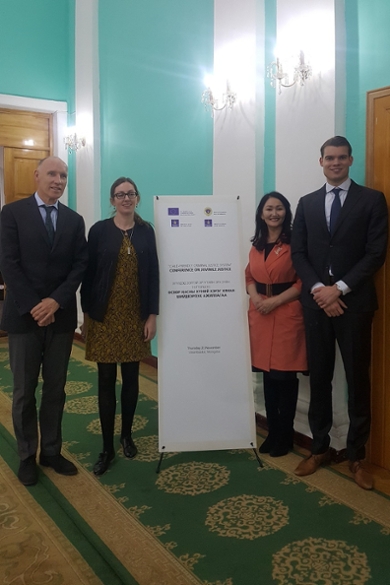 Van den Brink was invited as an international juvenile justice expert and gave two presentations, respectively on the principles of juvenile justice from a children's rights perspective and on alternatives to detention of children.
Hulshof played a leading role in organizing the conference, in his role of independent consultant appointed to this project, and was one of the chairs of the conference.
The conference was attended by representatives of the police, Prosecutor's Office, judiciary and the ministries of Foreign Affairs and Justice. Prominent participants were the Mongolian State Secretary of Foreign Affairs and Deputy Minister of Justice, and the EU Ambassador to Mongolia.
The conference attracted a lot of media attention. National newspapers and television stations reported extensively about the conference.
An official report presenting the most important output of the symposium is soon to be expected.