Nicole de Voogd appointed as Professor Global change and marine ecosystems
As of 1 May 2018, Nicole de Voogd has been appointed as Professor by special appointment Global change and marine ecosystems at the Institute of Environmental Sciences (CML). She is currently senior researcher at Naturalis Biodiversity Center in the field of tropical marine ecosystems.
Naturalis
In 2005, De Voogd obtained her PhD at the UvA on biodiversity of Indonesian sponges and on cultivation of sponges in sea for their pharmaceutical potential. A year earlier, in 2004, she was already appointed as senior research at Naturalis, where she still works. She is seen as a multidisciplinary expert in the field of tropical marine ecosystems. She combines disciplines such as systematics, ecology, phylogeny, chemical ecology, microbiology and biogeography. Moreover, she is known for her productivity, with many publications and citations. She received multiple grants, such as an Aspasia grant and a Vidi grant.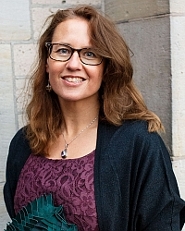 Collaboration
The appointment of De Voogd fits within the intensification of the collaboration between the CML and Naturalis. For example, there are researchers from Naturalis who receive an appointment at Leiden University and Scientific Director of Naturalis Koos Biesmeijer has recently been appointed Professor of Natural Capital. Together with Naturalis and the Institute for Biology Leiden (IBL), the CML strives in this way for a strong Leiden green cluster.
Combining expertise
The special chair of De Voogd is specifically aimed at bringing together the expertise of Naturalis and Leiden University within the marine domain of biodiversity and ecosystems. The aim is to gain new knowledge about the biodiversity and the functioning of marine ecosystems. This essential knowledge is ultimately needed to develop strategies for protecting, maintaining and restoring these ecosystems, such as tropical coral reefs in Indonesia.
Proud and honoured
'Naturalis is a wonderful institute and offers an inspiring scientific environment. I'm very proud and honoured that I now also get an appointment at the oldest university of the Netherlands', De Voogd says about her appointment. 'My interest lies mainly on tropical marine ecosystems, and in particular coral reefs in the Indo-Pacific area.'
Goals
I strive to connect multiple disciplines in research with which we get a better understanding of marine ecosystems. An important question will be how these systems will react on future global climate changes in combination with regional disruptions, in particular in the Indonesian archipelago. Furthermore, I hope to make students enthusiastic to do research on coral reefs too. We still know very little about the species richness, about how coral reefs will react on climate change. It would be terrific if we as Leiden University and Naturalis could play an important role in this.
Background information
'Coral reefs are the most productive ecosystems in the ocean, even though they cover only a very small area of ​​the seabed. They contain more than a quarter of total marine biodiversity. An important component on the reef are sponges, which are important for nutrient housekeeping within the reef. In addition, sponges are also extremely interesting for us, since they have the most potential of all marine organisms to produce potentially interesting pharmaceutical substances and therefore medicines against all kinds of diseases, such as cancer. These substances occur in very low densities in sponges. During my PhD research I tried to grow sponges in the sea to obtain these substances. In addition, I try to gain a better understanding of why sponges produce such a high diversity of pharmaceutically interesting substances. In addition, I want to know whether local environmental conditions – such as pollution – have an influence on this. Are they symbiotic bacteria that produce these substances and do they only make them in their sponge-host? I think that is the most important insight I have received from twenty years of research: in every research you get all kinds of new questions and challenges. I cannot do this kind of research alone, and the collaboration with researchers from different disciplines makes this kind of work very informative and interesting.'