'The depletion of the Earth's resources is coming closer every year'
A packaging-free shop, small mobile homes, solar panels on all Leiden's roofs… Jeroen Schrama, alumnus of Public Administration, is a creative world improver. 'If we really want to save the world, we have to make much more radical choices.'
Why did you choose Public Administration, and the Environmental Science specialisation?
'As a kid I was a true animal lover. When I read the alarming newspaper articles about us depleting our own planet, I wanted to do something about it. Not by standing with my feet in the mud, but by changing policies and politics. So I decided to study Public Administration and Environmental Science, where I learned to approach issues from different perspectives. Thanks to my internship at the Ministry of VROM (a research project on environment planning), I realised how quickly good intentions get bogged down. After a few years there are so many policies that there is no clear overview anymore, and rules become more important than intentions.'
How did you want to change the world?
'I try to make people aware of the current state of affairs in all kinds of ways. After graduating I wrote the ecological thriller De bevroren belofte (The frozen vow). It didn't turn out to be a great success but for all I know it could receive more attention if I write more. I'm also active in politics. During my studies I became a member of the Dutch People's Party for Freedom and Democracy ('VVD') because I thought that anyone who really wants to become sustainable has to have the VVD on their side. I'm also a liberal. However, I found out that the VVD wasn't my party and having been with Democrats 66 ('D66') for a short while, I eventually became a member of the Dutch Party for the Animals (Partij voor de dieren).
'In recent years I have been dual city councillor for this party in Leiden. It's a good opportunity to do something for the city, but it was tricky to develop sustainable initiatives for work and finance committees, even though I did have the ideas for it. I set up a project in my own district (Zeehelden neighbourhood) to make it energy neutral. One of the benefits is that each neighbourhood now has a sustainability district ambassador. The disadvantage was that I had to quit local politics in order to work on this project.'
How can you make Leiden greener?
'As a district ambassador, I try to make residents aware of the possibilities of living more sustainably. That can vary from purchasing solar panels to energy saving; a change in behaviour in particular can really make a difference. Without solar panels, our energy bill was about 70 euros a month, while some neighbours were paying up to 200 euros a month. A change in behaviour, however, is often a slow process. It only becomes successful when people start comparing their energy bills at a birthday party. I am also one of the initiators of the Sun on Leiden project. Leiden inhabitants who don't have a roof that's suitable for solar panels can invest in solar panels elsewhere in the city, and can still help to generate green energy.'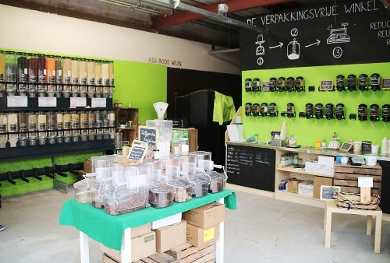 How is the packaging-free shop doing?
'In 2016 we started this shop with the help of crowdfunding; first in a pop-up store in the former V&D building, then in a temporary building in the Merenwijk neighbourhood. Our range includes mostly organic foods, such as nuts, legumes, grains and pasta. People can take their own container or bag with them and decide how much they need. We got a lot of enthusiastic responses, but a different way of doing groceries was still one step too far for many people. As I said: a change in behaviour takes time. In September this year we will open another packaging-free shop in the Korevaarsstraat. I won't run this shop myself; I prefer to spend my time developing and setting up projects. Anyone who is interested can email me at verpakkingsvrijewinkelleiden@gmail.com'
What other projects do you have in store?
'For one, the so-called tiny houses: small, sustainable homes of about 20 square metres that mainly generate their own electricity and can be moved. I'd like to live in such a house myself and I am currently trying to arrange a bit of land in the region where I and others can build such homes. I've been discussing with housing corporations and the municipality. I also hope to get the TU Delft interested in designing custom-made, sustainable homes. On top of that, I want to kick off a large societal debate. If we really want to save our planet, we have to make much more radical choices, such as a controlling the population and stopping large-scale meat consumption. Political parties don't dare to tackle this issue because it's a sensitive matter. However, at this rate, the depletion of the Earth's resources is coming closer every year.'
Who: Jeroen Schrama (42)
Programme: Public Administration 1994- 2004
Association: SSR and almost every sport offered by the University Sports Centre.
Favourite place in Leiden: Vlot Grand Café on the Galgewater canal.