Enya Seguin: 'Healthcare in Africa could be so much better'
Enya Seguin is an idealist. This 22-year-old alumna of Leiden University College in The Hague wants to make it possible for patients in Africa to have access to doctors anywhere in the world via an app. She is not deterred by the many problems and pitfalls she meets along the way.
Seguin is a true international. She is Canadian, she lives with her partner in The Hague and she regularly visits Switzerland, where her mother lives, but her ambitions are directed towards Africa, where she has also travelled. During her time studying Liberal Arts and Sciences: Global Challenges at Leiden University College The Hague (LUCTH), she became passionate about the field of healthcare. The challenge of using existing technology to improve healthcare in developing countries also appealed to her, especially in places where there is a significant physical distance between doctor and patient or where the healthsystem is overburdened, there is a lack of medical expertise, or treatment is too expensive.
New opportunities for healthcare
During her studies, Seguin worked in Switzerland as an intern at the Novartis Foundation, which shares the mission to enhance access to healthcare in emerging markets and low resource settings. As a result of this internship, Seguin conducted research on the Novartis Foundation's telemedicine project in Ghana for her bachelor's thesis.
Kenya, Seguin explains, is a world leader in mobile payment and it has one of the world's fastest internet speeds. Internet is readily available in urban areas and even in slum districts in Africa, such as Kibera, more than 80% of the inhabitants own or have access to a smartphone. 'This technological development in Kenya and other African countries means there are new opportunities for healthcare. I love new technology, but you don't need it to improve healthcare; I'm interested in new uses for existing technologies. Smartphones are very widely used in Africa. I saw many missed opportunities and lots of possibilities.'
The concept behind the app
Today, the healthcare field is fortunate enough to have virtual reality systems for surgical training, smart watches that measure blood pressure, drones delivery in remote areas for malaria pills, an app that detects skin cancer - the list goes on because technology and healthcare are merging. However, there is a new technology that is more elementary and easy to scale: the use of mobile technologies to connect individuals to doctors worldwide. The technology exists: it's the mobile device which is widespread across the majority of African populations across the continent.
Complex project
Early in her studies Seguin met the people who had thought up the idea for the app. "YAPILI" connects people seeking health advice with local and international doctors. There are various gaps in the access to health that presented an opportunity for YAPILI to be created. Firstly, patients may avoid going to a doctor because they have been diagnosed or are seeking help with a stigmatised health issue, such as HIV, or mental health problems. They may avoid going to their local clinic because it is overcrowded, distant and costly. Apart from the fact that local health care is often difficult to access, young people in particular rely too much on what they find on the Internet and what they read in Facebook groups. The numerous medical myths that circulate online mean that internet can be a dangerous source of information.
Local healthcare is first line of assistance
Seguin immediately saw the potential of the app and joined forces with the two developers. Seguin: "YAPILI provides a platform where users can contact qualified health professionals if they have questions about their medical situation or health problem. As a first line of assistance there is always the local health care system, but if it's not accessible for whatever reason, there's YAPILI.
Another problem that is being addressed relates to handwritten medical records. YAPILI allows its users to securely store their medical history. By having this function, we are tapping into 3 solutions: empowering people to own their health, centralising medical records and eventually enhancing health analytics.
Name: Enya Seguin, BSc (1995)
Programme: Liberal Arts and Sciences: Global Challenges (University College The Hague)
Activities during her studies: Chair of LUC.ID (LUC's online media content); Chair of the Yearbook Committee (LUC committee); Member of Amnesty International (LUC committee)
Favorite spot in The Hague: A secret rooftop 😉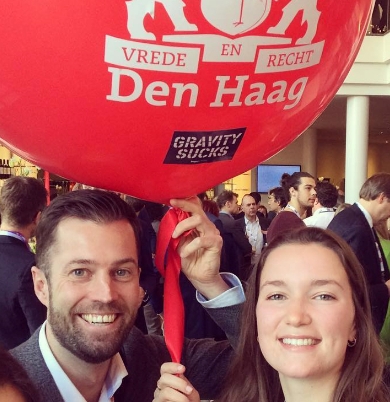 Legal framework and security
What have been the main hurdles so far? 'In most parts of the world, doctors are only authorised to practise medicine in their own country, even online. So how could we resolve that? YAPILI has been given its own legal framework in a construction that allows people to travel digitally for health advice. Data management and security are also tricky issues. Given that all medical information is being digitised and will be available via the app, this calls for the highest level of security.' And then there is the earnings model. The app itself doesn't generate any revenue. Seguin doesn't want to say too much about this. 'We've got some ideas, but we're still working on them right now.'
Seed phase
The start-up is in that tricky seed phase when it still needs further development to accomodate the growing number of users, but is not yet generating revenue. The startup has won 6 awards and recognitions since its launch in April 2017. YAPILI won an award for The Hague Innovator Challenge, which includes prize money of €25,000. Seguin and the team are now expanding the technical functionalities of YAPILI and actively seeking investment. If things don't work out, it won't be because of a lack of commitment from her or the other partners. The talents on the team range from health specialists, to software developers and business managers. We all bring different expertise and skillset to YAPILI, since this is necessary when merging the disciplines of healthcare to technology.
'Sometimes I wake up and think: what have I started, because the project is much more complex than I thought. But more often I start the day full of enthusiasm, especially when I think about what we can achieve and have already achieved.'
Perfect mix
It is already almost a year since Seguin graduated, in July 2017. She already knew she would focus on YAPILI , and not go straight on to study for a master's degree. What brought her to The Hague? 'I couldn't choose between subjects like law and economics, and I was looking for a mix. The Hague is also the city of peace and justice, where there's a lot going on in those areas. That appealed to me; surroundings like that give your education an even broader perspective.' In The Hague, Seguin found the perfect mix in the combination of GED: governance, economics & development. It doesn't get better than that. And everything came together not necessarily in the GED classes but in the Global Public Health (GPH) courses like Medical Anthropology and Health & Development (HIV/Aids) in Africa. That's a unique experience!
'LUC's courses gave me the tools to be able to think critically in the real world. The GED courses provided the theory and then it was up to me to do something with it. I've certainly done that over the past year.' The Hague has now become her home base: 'I find the city so easy. Everything is organised in such a manageable way and the people are friendly.'
Over a hundred doctors
Over 100 doctors from Europe and Africa and 1000 users from 8 African countries are now using the YAPILI app and online platform. Where does Seguin see herself in a year's time? 'I want to increase that to many more doctors and half a million users.' Now that's ambition!