Academics and partners from the field together conduct research on young people
What should future education look like? And how can we make sure that young people develop to their full potential as bright and socially-minded adults? These and other questions were at the heart of two of the National Research Agenda's research routes. The first results of the routes were presented on 19 February in the National Museum of Ethnology in Leiden.
The two research routes are the product of the National Research Agenda (Nationale Wetenschapsagenda, NWA), an ambitious programme in which science and society together look for solutions to current issues in society (see box). The two routes recently received a 'starting impetus' of 2.5 million euros to fund three years of research.
Well on the way
'Today we are showing that we are well on the way to shaping how these routes will be implemented,' said Eveline Crone, Professor of Neurocognitive Developmental Psychology and chair of the Developmental and Educational Psychology department at Leiden University. 'In a short time we have managed to organise project groups on these themes, where academics work together with teachers, school heads, societal organisations, and many more. We're proud of that and we want to show off what we've achieved.'
Crone is the driver – or rather the 'figurehead' – of the NeurolabNL route. This route brings together cognitive, behavioural and neuroscientific research in the Netherlands, where researchers look at such questions as how our brains process information. The other route presented on the same day is also driven by a Leiden researcher. Judi Mesman, Professor of the Interdisciplinary Study of Societal Challenges, leads the Youth in Development, Upbringing and Education route, together with Professor Monique Volman (UvA). In this route researchers and partners from the field of practice are looking at how studying young people can lead to societal innovations.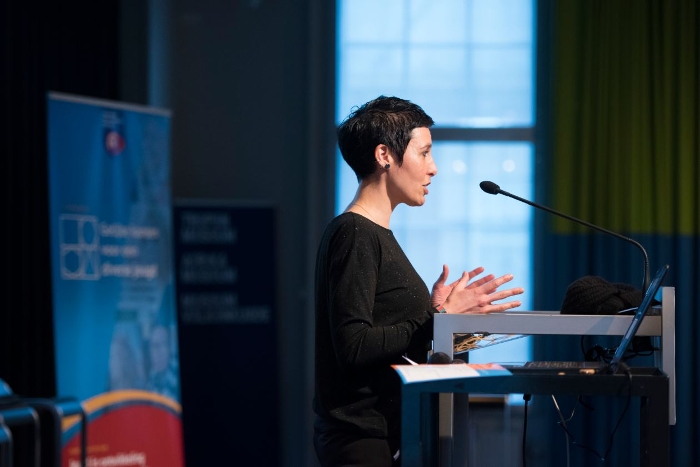 Social cohesion in the class
There was no lack of examples at this kick-off meeting. The different research projects within the two routes introduced themselves to the audience. Scientists from Leiden and Nijmegen want to know, for example, how you can measure and strengthen social cohesion within a class. A class is, after all, a scaled-down society and the social skills you learn there will be with you for the rest of your life, outside school as well.
Another major social problem is the exclusion and bullying of children. This can lead to isolation, depression, deteriorating school performance or even suicide attempts, Berna Güroğlu (Universiteit Leiden) explained. But what effect does long-term exclusion have on the brain? She will be exploring this in the coming years with brain researchers from Groningen, Leiden and Rotterdam. The KiVa organisation that offers anti-bullying programmes at junior schools is also involved in the research.
Feedback from young people
It goes without saying that not only were the talks about young people, but talks were also held with young people. A youth panel gave some robust feedback on the sub-projects. 'If you want to improve the cohesion within a school class, you need to give the pupils a common goal,' Fahima commented. 'That could be something to do with sport, where you see the similarities between classmates rather than the differences.' And Elisa sees a clear role for teachers: 'Sometimes you have to force the discussion by putting different students together in a group.'
Marjan Hammersma, Secretary-General at the Ministry of Education, Culture and Science, stressed in her talk how important it is that academics and partners from the field of practice together find the answer to questions from society. 'It strikes me every day just how far apart science and practice are. How often do we see an interesting dissertation translated into concrete policy? And how often is policy based on the outcomes of scientific research? These NWA routes have the potential to extend the societal impact of scientific research, and to improve policy. I'm really pleased about that.'
Photos: Marc de Haan.
About the National Research Agenda
The National Research Agenda (NWA) is based on more than 12,000 questions put forward by the public. These questions have been categorised in 25 current societal issues: the routes. Science and society will be searching together for solutions to these issues.