In retrospect: The December edition of the ILS Lunch Seminars
The monthly ILS lunch seminars continue to bring together colleagues from across Leiden Law School. On December 14, we successfully concluded the calendar year with the presentations of Dr. Moritz Jesse and Helena Ursic.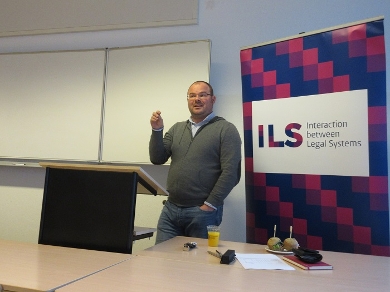 Dr. Moritz Jesse presented the results of his VENI project and concluding conference: "The 'others' amongst 'us': Thoughts on Western Societies, Otherness and the Law." He explained how the notion of equality is hardly ever unconditional for any group of immigrants – including those who enjoy the highest grade of protection, such as EU Citizens moving in the EU. Jesse explained that citizenship is the starting point of every human interaction. This means that often, immigrants have to depend on 'rights' given to them by the host society. Separating immigrants from the host society and making them 'the other' will do harm to the integration of immigrants in the receiving society.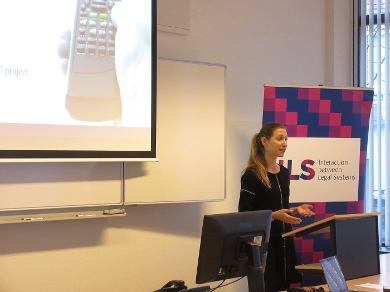 The second speaker was Helena Ursic LLM, who will shortly be leaving Leiden Law School to become a fellow at Yale in the United States. She presented some of the key insight from the EuDEco project in her presentation "Law & the data economy: a modern conflict or alliance?". Ursic explained the underlying economic, societal, legal and technological framework conditions and related challenges of extracting the benefits of data. Using their smartphones, she engaged the participants of the seminar to vote on the question whether Law & the Data Economy are in conflict or rather form an alliance. The preliminary results showed that 80% of the voters saw the Law & Data economy as an alliance, but the final results (as demonstrated below) show that a little bit over two thirds of the voting audience perceived the Law & Data Economy as a conflict.
The ILS Lunch Seminars allow the academic staff of our Law School to get to know each other in an informal setting and inform each other of ongoing research. The next seminar will take place on Thursday 15 February from 12:00-13:00. Prof. Jean-Pierre van der Rest is the first confirmed speaker, who will give a presentation on "An Update on "Buyers Beware: Online Pricing in Operation!" How the Framing of Mandated Behavioral Price Discrimination Disclosure Influences Intention to Purchase".
Would you like to present yourself and your research? Do not hesitate to contact our ILS student assistant! There is no need to register for the seminars, just join. Lunch is provided for.