LUC The Hague again top rated Liberal Arts & Sciences programme in the Netherlands
LUC The Hague is honoured to announce that, for the fifth time, its Liberal Arts & Sciences: Global Challenges programme has been awarded the 'Top Rated Programme' quality seal by the Keuzegids Universiteiten 2018!
Amongst the different categories, our teachers have again been highly rated by the students, emphasizing the quality of our programme and teaching staff. Prof. Dr. Judi Mesman (Dean of LUC The Hague) and Lieke Schreel (Educational Director) are very proud of this achievement: "We are happy to score so well in teaching as it simply is the most important component in an undergraduate programme like ours".
Keuzegids Universiteiten
The Keuzegids Universiteiten (Dutch University Guide) is annually published by the Centrum Hoger Onderwijs Informatie (Dutch Higher Education Centre) and uses the results of the Nationale Studenten Enquete (National Student Survey) combined with expert opinions. The NSE is a large-scale, national study that yearly invites all students in higher education to voice their opinions about their programmes of study.
Top Rated Programme
The Keuzegids has rated programmes according to various sets of criteria on a scale from 1 to 100. Every programme achieving a total score of at least 76 points in the rankings are labeled as a 'Top Rated Programme' by the Keuzegids. LUC The Hague scored 86 points this year.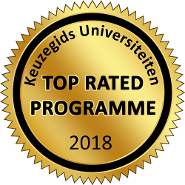 For more information about the Keuzegids ranking, please visit www.keuzegids.nl (in Dutch).
For more information about LUC's teaching staff, please visit the following article:
LUC The Hague has best teachers in The Netherlands