From Tax Havens to Tax Justice
On Friday 17 November 2017, H.E. Dr. María Fernanda Espinosa, Minister of Foreign Affairs and Human Mobility of the Republic of Ecuador gave a lecture on Fairness in Global Taxation at the Grotius Centre for International Legal Studies at Leiden University, Campus The Hague.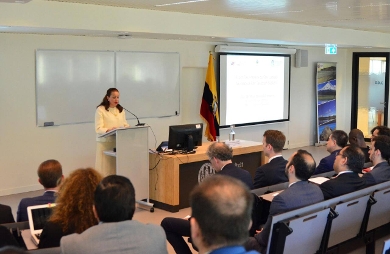 Incidents, like the Panama and Paradise Papers have shown that fairness in taxation has become a global problem. H.E. Dr. Espinosa argued that tax evasion affects the right to development. She presented the Ecuadorian initiative for tax justice, which proposes the creation of a UN mechanism to intensify international tax cooperation and the fight against illicit financial flows. She claimed that an intergovernmental forum for cooperation is necessary to curtail tax havens and promote 'globalization with a human face'. She stressed that business compliance with human rights is essential to ensure fair competition, predictability and transparency. Ecuador is the first country in the world to prevent individuals with financial accounts in tax havens from being elected to office.
The lecture was introduced by Prof. Carsten Stahn. It was widely attended by diplomats, members of the international legal community in The Hague and students.