Universe Awareness one of the most innovative programmes in education
Educational programme Universe Awareness (UNAWE) is one of HundrED's 100 Global Inspiring Innovations in Education. This was announced on 4 October 2017 at the HundrED Innovation Summit.
'UNAWE uses the beauty and the enormity of the Universe to inspire young children,' says George Miley, its founder and Leiden University Astronomy Professor. 'UNAWE's aim is twofold, to show them that science and technology are exciting and foster the spirit of world citizenship. Being recognised by HundrED is both humbling and a great honour.'
Inspiring children with the Universe
Universe Awareness is a programme to inspire children from 4-12 years old with the wonders of our Universe. In 2006, the UNAWE International Office was founded at Leiden Observatory, which still coordinates the programme. UNAWE provides educational resources, teacher trainings and student ambassador programs in more than 63 countries worldwide.
'Without inspirational innovators, such as Universe Awareness, education wouldn't continue to improve and thrive, often in the face of adversity', says Jessica Spencer-Keyse, Global Research Lead at HundrED. Universe Awareness uses an innovative approach to ensure that teachers and parents around the world will have excellent educational material available for making children aware of the Universe in which we live and achieving its two goals.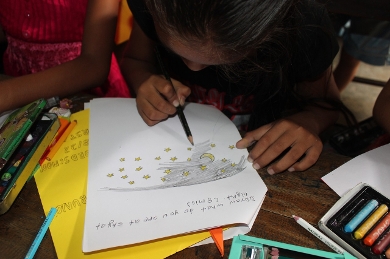 Innovation in education
To announce the 100 innovations, HundrED organised a high profile, invitation-only summit in Helsinki, Finland, for the world's leading education innovators. According to Spencer-Keyse: 'It has been truly inspirational to conduct in-depth research into what the next 100 years of education could look like. We look forward to sharing Universe Awareness' exciting innovation, online and offline, with the world to scale and spread.'
During the last year, HundrED has been searching the world for 100 inspiring innovations in education. The 100 innovations are selected using an evaluation model that consists of three stages: professional assessment (by the advisory board), self-assessment (by an innovation developer) and peer assessment. The innovations are divided in five categories that answer questions such as: What are skills will be needed by future teachers, what is the role of the teacher, how should learning be assessed and what is an effective learning environment?