Hans-Martien ten Napel presents paper during 24th Annual International Law and Religion Symposium at J. Reuben Clark Law School
From October 1-3, 2017, the 24th Annual International Law and Religion Symposium was held at Brigham Young University in Provo, Utah, USA. The Symposium was attended by 100 participants, from 50 different countries, while interpretation at the venue was available in 11 languages (Arabic, French, Italian, Korean, Laotian, Mongolian, Portuguese, Russian, Spanish, Ukrainian, and Vietnamese).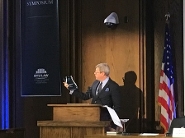 Hans-Martien ten Napel presented a paper during the panel on 'Religion & Pluralism in a Changing World'. Other speakers included Ján Figeľ, Special Envoy for the Promotion of Freedom of Religion or Belief Outside the European Union and András Sajó, Former Judge and Vice-President of the European Court of Human Rights, and a Professor at Central European University, Hungary.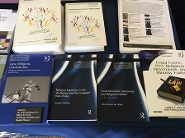 During the conference, Hans-Martien ten Napel's recent book Constitutionalism, Democracy and Religious Freedom. To Be Fully Human (Routledge, 2017) was exhibited on the book table. At the start of the final session of the Symposium the book was presented by Prof. Brett G. Scharffs, Director of the International Center for Law and Religion Studies, as one of several new 'Books of Note'.
See for more information about the Symposium's program: https://www.iclrs.org/content/blurb/files/2017%20Symposium%20Program%20for%20Distribution.pdf