ECtHR Judge Ledi Bianku speaks in the European Seminars Lecture Series
On 25 October 2017, Ledi Bianku, judge at the European Court of Human Rights, gave a guest lecture entitled "The ECHR and asylum". Ledi Bianku is Judge at the European Court of Human Rights since 1 February 2008. He has held the position of Vice-President of Section I of the Court from January 2016 to February 2017. Prior to his appointment as judge at the Court, Professor Bianku lectured human rights, EU law and public international law at the Albanian School of Magistrates and the Faculty of Law of Tirana University (Albania).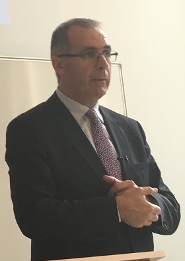 In his lecture, Judge Bianku discussed the impact of the ECtHR on asylum law in Europe, taking his audience through the Court's most important cases. He emphasized the importance of the principle of non-refoulement, as read in articles 2 and 3 of the ECHR (right to life and the prohibition of torture or inhuman or degrading treatment or punishment).
This was the second lecture for this academic year in the European Union Seminar Series, a joint initiative of the Europa Institute at the Leiden Law School and the Master's Programme in International Relations and the Institute for History of Leiden University. The lecture was also attended by student from the LDE interdisciplinary master on the Governance of Migration and Diversity.