Students give feedback during lunch with the Faculty Board
Seven master's students had lunch in the characteristic Humanities Faculty Room with Faculty Board members Mirjam de Baar (vice dean) and Aurelie van 't Slot (student board member) and gave feedback about their experiences at Leiden University.
Listening to what's going on
The Humanities Faculty Board is organizing several lunches this year to hear from students how they're experiencing their studies. On July 5th, seven Dutch and international master's students joined. "I think it's valuable that our opinions matter", says North American Studies student Laura op de Beke. "Meetings like these are a good way to give feedback."
The job market
During the lunch, many students said that they wish their studies would pay more attention to the job market. The amount of time spent discussing career possibilities for students now varies greatly from study to study. Vice dean Mirjam de Baar: "During the lunch, all students stated that a one-year master's is too short to do an internship and that they would like to have the opportunity to do an internship during their study, preferably for a longer period."
Housing
Student accommodation was also a hot topic during the meeting. At the moment, international and national students are housed separately by housing organisation DUWO, but both groups would like to see this changed. Being in contact with Dutch students at home is a good way for international students to feel at home quicker in Leiden.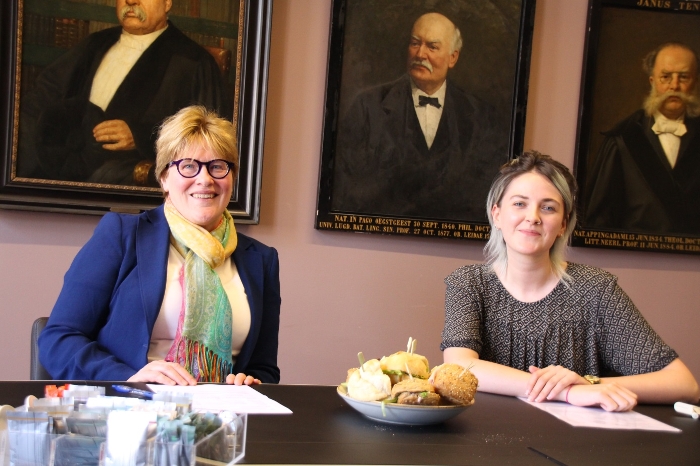 Master's Buddy Programme
A positive mentioned by many students, was the Humanities Master's Buddy Programme. This is a programme that connects international students with Dutch students so they can get to know the city and the university better. Many students participated in the programme and were happy with the thorough way it was set up and with the benefits they got from joining the programme.
Problem-solving
What will the Board do with the feedback from the master's students? Student board member and Asian Studies student Aurelie van 't Slot: "When it comes to housing, the Humanities Faculty unfortunately has no direct influence, but it's good to hear the problems our students experience. It confirmed for us that we need to keep addressing this issue to the Leiden University management."
After the lunch meeting, vice dean Mirjam de Baar says she is committed to faster problem-solving for international students: "and I don't mean just finding a room quicker, but I also mean knowing how to open a bank account, figuring out how to register at the Leiden municipality or how to get an insurance", she says. "The international students we talked to all said they spent too much time on these things."
Creating awareness
Master's student of Modern Middle Eastern Studies James Hewitt was also present. He is also the one who set up the Humanities Buddy Programme in 2016. He says of the lunch meeting: "These kinds of meetings are a good way for students to make the Board more aware of the things and problems students encounter during their studies. It was a good experience and very useful.