Annelise Reid wins Speckmann Prize 2017
On March 6, Annelise Reid was granted the Speckmann Prize 2017 for best MA thesis of the Institute of Cultural Anthropology and Development Sociology. Annelise Reid wrote her thesis on the Dutch Pentecostal community. Erik de Maaker was her thesis supervisor.
Participerend onderzoek
Annelise Reid lived in a Pentecostal community for three months while writing and filming for her thesis. "To me it was a fascinating paradox that religion on one hand is said to be disappearing in Western secular societies, while the Pentecostal church is rapidly growing in The Netherlands and worldwide. To me that says that modernity doesn't have to mean that people lose religion."
In her thesis 'Moved by the Spirit: Sensing the Divine in a Pentecostal Church', Reid focuses on the experience of the Holy Spirit in a small-town Pentecostal community in the Netherlands. Winning the Speckmann Prize came as a big surprise to Reid. I never really expected to win. You spend such a long time alone with your research subject that when they called me to say I had won this award, I was surprised." Reid received the award from the hands of Peter Pels, Professor of Anthropology, who called her thesis "gripping and a must-read".




Currently Annelise Reid is working as a PhD at the Research Institute for Philosophy and Religious Studies of Utrecht University.
Speckmann Prizes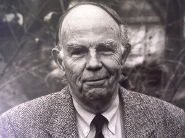 Annually the Institute of Cultural Anthropology and Development Sociology awards the Speckmann prize for the best Fieldwork NL report from a bachelor student, as well as the most accomplished master's thesis.

This tradition started in 1993. The prizes are named after Professor dr. J.D. Speckmann (1928-1997), who taught empirical sociology with a special focus on field research.

For more information about the Speckmann Prizes, see Prof.dr.J.D. Speckmann prize.

The winner of the Speckmann Prize for best Fieldwork NL report will be announced at the Field Work Conference on April 21st 2017.