Focus Raqqa: reconstruction of a Syrian museum collection
In the civil war in Syria, the country's cultural heritage is also under threat. There have been further acts of vandalism in Palmyra and many of the city's museums have been looted. Leiden archaeologist Olivier Nieuwenhuijse's Focus Raqqa project aims to make a digital inventory of the plundered archaeology museum in Raqqa.
It is an image of utter bewilderment: the square in front of the National Archaeology Museum in Raqqa just after a car bomb had gone off. A burnt-out car, the blinds of the museum hanging loosely at the windows, a couple of men staring speechless at the damaged building. 'There were around 6,000 artefacts in the museum, and as far as we can tell, they've all gone,' says Olivier Nieuwenhuijse. The Fort Raqqa project is an attempt to reconstruct the collection, in digital form.
Dutch excavations
'We have a long history of Dutch excavations in Syria, particularly in the region around Raqqa. It's almost our own backyard, and we have done a lot of work with the local archaeology departments and the Directorate-General of Antiquities & Museums (DGAM) in Damascus.' The idea of doing something to preserve the Syrian heritage has been on Nieuwenhuisje's mind for some time. It was when a request came from DGAM to help them with the plundered museum in Raqqa that the idea of Focus Raqqa was born.
Descriptions in archives
'Many of the artefacts from the plundered museum were once excavated by Dutch or even Leiden archaeologists,' Nieuwenhuijse explained. And that gives us some opportunities: during excavations, all the items discovered are catalogued. 'The most important items from a dig are carefully recorded, with descriptions, the find location and photos. These are the very pieces that are later included in museum collections.' All these decriptions are stored in the researchers' archives. Leiden most probably has a huge number of descriptions of these museum artefacts.
Reconstructing the collection
The museum in Raqqa itself has only a very brief list of the inventory. Nieuwenhuijse: 'Everything is on the list, but recorded as object number 1542, clay tablet, from Telo Sabi Abyad, 15 by 20 cm, which tells you very little about the object itself. But if we link this to the information from our archives, we can put together a very precise description of these clay tablets.' This way, Nieuwenhuisje hopes to be able to make a digital reconstruction of the whole museum collection. 'This inventory can then be used when particular items appear on the market for antiquities, or by inspection agencies that are actively searching for missing objects.' Nieuwenhuijse is already in contact with Interpol about this.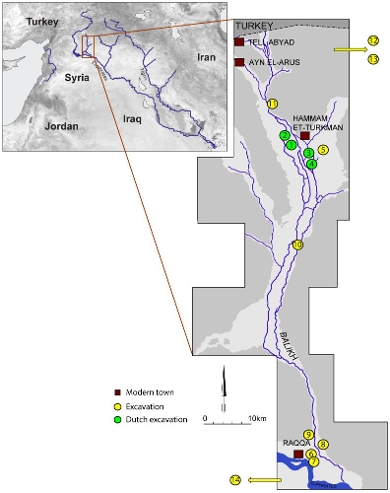 Recovering the most important artefacts
The ultimate aim is, of course, to recover part of the collection, although this is something Nieuwenhuisje himself will not be in. 'All I am offering is to make it possible to trace the objects.' There are a number of items that are high on his wish list. 'There were a lot of importnt artefacts in the museum, including a number of unique prehistoric painted bowls, and very special clay tablets from the 12th century BC describing the daily lives of the Assyrians. We can learn so much from them about that period.'
First part
The Focus Raqqa project recently received a subsidy from the Prince Claus Fund, which will allow them to start an initial pilot study in mid-February. 'Part of the museum's collection was moved to the National Bank of Raqqa in 2012, and has since been stolen. We're starting by reconstructing this specific part of the collection.' Nieuwenhuisje is working in the pilot with two Syrian archaeology students who came to the Netherlands as refugees. 'They came to see me one day to ask if I would help them complete their studies here. Their network in Syria is incredibly valuable to the project.'
Neutral collaboration
Nieuwenhuijse will be working together with the Freie Universität and the Deutsches Archäologisches Institut in Berlin, where a lot of documentation on the excavations around Raqqa is held. Various British and American colleagues have also offered their support, and Nieuwenhuisje has intensive contacts with his colleagues in Syria. 'We have worked together for years with people in both Raqqa and Damascus.' That can have its complications: Raqqa is the base of the IS territory, and there is no communication and no form of cooperation with IS, not that we would want that. In Damascus, President Assad's government holds all the power, and the DGAM is is a government agency. 'If we want this project to be a success, we will have to adopt a neutral position and be completely transparent,' Nieuwenhuis comments. 'We keep our distance from politics: we work with local partners, in fact our fellow archaeologists with whom we have always worked on maintaining the local heritage and the tradition of Dutch research in Syria.'
Not everything has been lost
Nieuwenhuijse is confident that the pilot will make it possible for the first part of the collection to be reconstructed. 'The question is how much time it's going to take to find everything in the archive.' Once that has been achieved, he hopes to use this success to attract further resources to be able to reconstruct the whole collection. 'Many of my colleagues are feeling powerless, fearing that, because of the war, archaeology in Syria is a lost cause. But among the Syrians themselves, there are a lot of people working hard to preserve their history, people who are even risking their lives to secure this heritage,' says Nieuwenhuijse. 'I, too, am not willing to just accept that everything has been lost. This project shows that there are things we can do to prevent that.'
Olivier Nieuwenhuijse is an archaeologist and project manager at the Centre for Global Heritage and Development, a Leiden-Delft-Erasmus partnership focusing on an interdisciplinary approach to heritage. The Focus Raqqa project also falls under the Centre for Global Heritage and Development. Preparations are already in full swing; the project starts on 15 February.